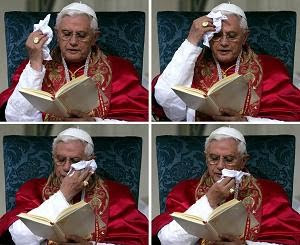 The first demonstration against Papal visit is this Sunday in front of Westminster Cathedral, 11am -2pm . Nearest Underground Station is Victoria
German Chancellor Angela
Merkel
has condemned the latest series of scandals in Germany where Pope was born. Is he the last Pope as some have predicted long time ago?Pope's brother has been accused of physical abuse. Read
here.
What is terrible is also that tax payers have paid huge damages for Catholic Church. In Ireland hundreds of millions have been paid in compensation to victims of sexual abuse by the tax payer (90%) and only ten percent came from the Church.
Surely, Doctors4Justice is not the only organization aware of the huge assets of the Catholic Church.

In 1999 I objected to the wearing of religious uniform by Catholic nun employed by Harrow Social Services to work as a Social Worker with mentally ill , some of whom suffered abuse at the hands of local Catholic priest.Following my
whistleblowing
about the wearing of religious uniforms, the system did everything to protect the church and not patients.
Religious uniform acts as a reminder of trauma of abuse and why should men have to suffer panic attacks (one of the consequences of Post-traumatic Disorder) when talking to their Social Worker?

It is a shame that The Royal College of Psychiatrists in London put religion first and not patients with respect to this particular issue. They supported Catholic nun wearing her religious uniform when working with mentally and do so to this day. Their reason is that the matters are : "Complex".


When everybody knows that uniform has symbolic meanings as well as denoting power and status of the wearer, what can we say of the institution that is committed to conformity of religious
privileges
, status
quo
and ultimately the security of their own jobs in state hospitals.
I note with interest that English Health Secretary went to a Catholic school. Is that the reason why The Royal College of Psychiatrists is so unassertive or is it simply that some men
fancy
the idea that God's male image is identical to what they see in the mirror.