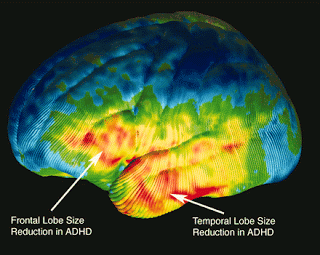 Please, click on the brain image on the left to read more about anatomy of ADHD
Attention Deficit Hyperactivity Disorder (
ADHD
) is a complex group of disorders attracting much controversy and suffering for both patients and doctors trying to help them.
As a medical student I remember looking at the slides in the lecture about
ADHD
when we were told most children appear to have physical abnormalities in the brain resulting in behavioral changes. With age these children were supposed to improve a great deal but some would still have problems into adulthood. Now we know it is the majority of patients who continue to have a degree of impairment.
The treatment of
ADHD
with stimulants some of which are addictive caused punitive behavior towards patients by some doctors and other agencies. As if it was their fault that stimulants are required to control (yes, paradoxically) hyperactivity!
Doctors have been repeatedly accused of drugging patients with addictive drugs by some religious groups too.
Many patients are left untreated because of the attitudinal problems towards them and ignorance. The consequences for the patients and the state are serious: drug, alcohol abuse, anti-social behavior, imprisonment, poor work record, unemployment, depression, anxiety and social problems.
I remember reading one study from Germany where 70% of prison inmates had untreated
ADHD
.
Well, I never thought when I was a medical student concentrating on my lecture on
ADHD
that being attentive is going to lead to me having problems as a doctor rather than preventing them. Years later, I was doing a locum Consultant Psychiatrist job in beautiful Wales when I inherited a blacklisted psychiatric patient who was not allowed access to psychiatric services on the grounds of having a personality disorder. When I looked at her notes, I thought it was a bit mean to treat her like that and on examination in outpatients clinic I established she had
ADHD
as a child which was treated successfully in Wales by her Child psychiatrist, but once she became adult it was stopped and nobody (GP or new psychiatrist) was willing to prescribe her stimulant medication that she needed. She lost her job due to her malfunction (inability to concentrate), relationships were virtually impossible, her husband was about to divorce her, and she was desperate. I had to make special arrangements to be able to prescribe her medication children regularly get for this disorder in UK. She was transformed following reintroduction of her treatment and both she and her husband were very grateful.
However, for me it was the beginning of hostility by her usual consultant psychiatrist and her secretary who felt threatened by a change in diagnosis from personality disorder to
ADHD
. I was subjected to some silly and untruthful allegations, I cannot even remember details now (how fortunate, I am). Luckily, I was able to defend myself from the allegations when I spoke with the hospital management. However, the medical regulator was already chasing me having been prompted into action by a psychopathic doctor from another area. The managers from Wales had to travel all the way to London to have talks with
GMC
investigators and eventually, no charges were made against me on the account of my treatment of an adult with
ADHD
. However, there was plenty of other misunderstandings and malice to keep them going on for years.
There are people who think that children should not be prescribed any medication for brain disorders. There are some people who think people should not take any medication even anti-
biotics
and that prayer would be enough. And so on.
Whatever, one may think about extreme religious or other dogmatic values, the facts of the matter are that ignorance is not confined to dogmatic. Fearful people run can away from the truth and hide rather than learn.
ADHD
is not easy to treat always. It can be more difficult to diagnose it in adults where manifestations are different somewhat compared to children. Openness of mind is required and one has to seek further information and help at times. There are complex medical conditions in which
ADHD
occurs.
Correct treatment transforms lives of children and adults. Addictions disappear when
ADHD
is treated and the crime rate goes down in this population group.
Doctors need not just to know about adult
ADHD
, but learn how to use addictive medication when necessary and without fear. There is also some new treatment which is not addictive.
I think if more patients were seeking
compensation
for psychiatric negligence maybe there would be more attention paid to this disorder by some medical professionals.
To read more about ADHD click here for European Consensus Statement on Diagnosis and Treatment of adult ADHD. The European Network ADHD.
It is good to see that the Royal College has put up a number of training courses for treatment of ADHD.