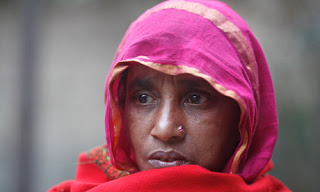 Hena
Akhter
, a fourteen year old girl was whipped to death under fatwa and yet three doctors claimed there was no evidence of any injury. She died in hospital. They are now investigated by authorities. Police are also investigated for refusing to investigate her rape by a cleric. Click on the picture to read the disturbing story in Guardian.
One of the clerics was reported as having an affair with her rather than raping her. He was allowed to escape after 4-5 lashes and caught after being on a run for a number of days.
Why would state support religious courts is not a mystery. Why they should not be allowed to do so is also not a mystery. That this can happen in other countries is a distinct possibility. UK has sharia (religious courts) now.
Religious bias does exist even at the disciplinary tribunals for doctors in UK held by medical regulator. Doctors with special interest in child abuse have been relentlessly persecuted by medical regulator because of false allegations of misconduct. Religious bias has not been addressed such as allowing religious uniforms to be worn by staff in mental health service where victims of abuse and rape by clergy like Hena Akhter may seek refuge and treatment. When they are so frightened and cannot speak up when faced with religious authority, the regulator does not care.
Honor killings are a global problem with at least 5000 women and girls killed in many parts of the world. UN reported a rise
in honor
killings in 2000 in keeping with the rise of religious fundamentalism.
In UK police have to deal with hundreds of incidents each year related to "honor". On average at least 12 deaths occur each year due to honor killings.
There is also increase in so called suicides of women who ARE ACCUSED of damaging the honor of their family, for example, if they were raped. Maybe some of these are actually murders. How alert would be the public to scrutinize suicides in girls and women of ethnic origin?
The real number of honor killings are likely to be larger than reported.
In 2009, Dr Aisha Gill, a Senior Lecturer in Criminology at Roehampton University said:
"Too often, multiculturalism is applied in such a way that policies and practices fail to interrogate the norms and values of different cultures or question the behavior of their members. There is an assumption that sensitivity to cultural diversity requires certain actions to pass uncontested, even when they are in conflict with fundamental human rights."
I would add that different cultures can make us think about what is wrong with our own culture but that authorities avoid that consideration too and the abuse of human rights by themselves. The General Medical Council in London refused to disclose to me whose idea it was to put the photograph of Bible on their website when I asked under Freedom of Information Act 2000. Obviously, not proud enough to declare it or to take any responsibility for their endorsement of patriarchal domination of women and children, the very same values that are behind honor killings. How many people do really know that Bible condones and even approves of rape?
To read about it click here
. It is worth questioning own culture, is it not?