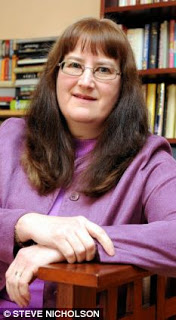 Dr Sheila Mathews' Employment Tribunal hearing against Northamptonshire Council starts today in Leicester. She is a Community Consultant Paediatrician who was employed as a medical adviser to their adoption panel. Dr Mathews objected to adoption of children by same sex parents and abstained from voting when same sex parents were considered by the adoption panel. Initially, Dr Sheila Mathews was replaced by the Northampton Council on the panel and after that she resigned.
Mr Paul Diamond is representing her human rights issues and is paid by Christian Legal Center. Surprise, surprise.
Considering that there is no conclusive scientific evidence that children raised by the same sex parents are any worse off than those raised by heterosexuals, I have great difficulty seeing how one can make a claim that her professional opinion would be enough to help her win her Employment Tribunal claim. After all, we are responsible for our professional opinions and accountable to a number of people. It is against Good Medical Practice to discriminate on the grounds of gender. Is our medical regulator asleep, or just rejoicing at the fact that there are still women doctors around who just do not get the power politics of religion? Most religions are patriarchal and why would any woman support it is well known. Some people just never grow up enough to pick up the sweets on the top shelf and in my opinion, Dr Mathews is one of those. Supporting those already in power (religiously biased establishment) may seem easier in the short term but ultimately one must not betray one's true values (in Dr Mathews case one would reasonably expect those to be the interests of children).
This conflict between religious belief and adoption needs has occurred in a number of countries associated with UK e.g. Australia. In Sydney there were about 120, 000 children waiting for adoption but only about 50,000 children found homes. There too, the same issues arose with Christian right putting themselves first and social welfare of children second. Again this suggest that something is wrong with a system which really should make a firm commitment to secularism.
Dr Mathews will claim that her career has been damaged beyond repair. I doubt it.
The religious bias is present in so many medical institutions in this world today that she would have no problems finding work. There are Christian medical foundations why would they reject Dr Mathews?
With respect to her hair style, I am not in position to say if Dr Mathews has a hairdresser. However, if there is one, I would like to add that hairdressers too, have the right to reject being forced to cut the hair in the way which the client demands and which would misrepresent their true artistic ability.
One way or another it is another bad hair day for Dr Mathews.
I, guess pink oboe chamber music is not to Dr Mathews liking either.
Here is Mozart's Oboe Quartet
.