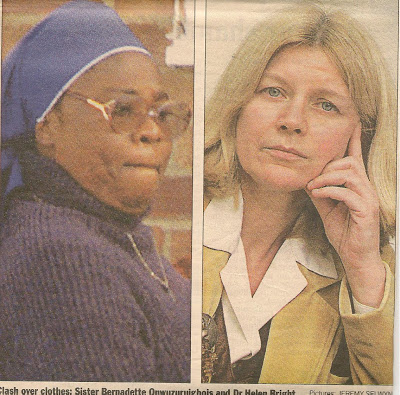 Introduction
: When in summer of 1999 Harrow Social Services in
Middlesex
, England employed a Catholic nun to work as a social worker with mentally ill she was wearing her religious uniform. There were members of Community Mental Health Team who rolled their eyes at this appointment and I wondered why. I asked them how did they know she was a nun and they told me because of the way she was dressed when she came to her interview.
In UK psychiatrists, psychologists, nurses, administrators and social workers working with
mentally
ill have not been wearing uniforms since at least 1970's. For example, doctors do not wear white coats when working with mentally ill.
I decided to investigate this issue of uniforms. At first, I did literature search and found that there were already hundreds of papers about the wearing of uniforms in psychiatry. The research found that not wearing e.g. nursing uniforms was associated with better compliance with medication, less violence on psychiatric ward, and less self-harm. It has been thought that medical uniforms act as a barrier to trust between the patients and staff.
However, I could not find any scientific publications about the wearing of religious uniforms and mental illness. There were newspaper reports of murders of nuns by a psychotic patient. Therefore, I thought it could be worthwhile to find out what mentally ill patients living in the community thought about religious uniforms. Do they find religious uniforms off-putting or attractive?
There were newspaper reports of various nuns being murdered by mentally ill.
Method
: In order to investigate, I asked a psychologist to review my methodology ( a questionnaire, I designed) and he made very useful suggestions but did not wish to be named in fear of persecution as he was still working in National Health Service (
NHS
), United Kingdom, Europe. In 21st century he feared persecution and I think he was right to do so as I discovered it for myself too late. General Medical Co
uncil
, UK made itself busy for twelve years persecuting me and destroying my career. GMC even today allow religious fanatics to sit at their fitness to practice panels to judge other doctors. They have been allowed to sit at Council (governing body of GMC) as well and obstruct progressive medical policies. Religious extremists can decide what will be on the agenda and what will not be. Labour government from 1997 - 2010 pushed religion into public forum and
GMC
followed it. Thousands of doctors were persecuted and mainly ethnic minorities suffered. Record number of doctors were erased from medical register.
An Information page about the questionnaire on religious uniforms worn by social worker was given to patients in order to obtain their consent and confidentiality was assured.
Research Ethics Committee was informed about the proposed research and permission for research requested from a medical director. An Ethics committee member wrote to say no permission from the whole of Ethics Committee (17 members) was required for such a simple research project. Medical director in the Department of Psychiatry where
research
took place refused to reply to my requests for permission (four times). Finally, at the public hearing before
GMC
he gave his reason: as the results of the research could go against his friend, another medical director in a different trust where a nun, social worker was situated and working wearing her religious uniform. Thus "old boy network" came before patient or justice needs. Many years later I discovered this Medical Director was in fact, a religious man, associated with Special Interest Group in Spirituality at The Royal College of Psychiatrists. Contrary to Good Medical Practice he was actually, blocking research because of his own religious views.
For research two questionnaires were designed: Questionnaire A and B.
In one there was a photograph of a Christian nun dressed in her religious uniform (actress) and a male figure was in casual clothes (actor). Under each of the photographs there was a
Linkert
scale (line) and patients had to place a line across a horizontal line which at one end said: Most off-putting and at the other: Most attractive. That way they would indicate their preference. The closer the vertical line to one end, it would indicate preference for that dress (photo above the scale).
Another questionnaire had the same male actor but this time dressed as a Christian priest dressed in his religious uniform and the same female actress, but this time wearing her casual clothes. Again patients had to score on
Linkert
scale.
Questionnaires were mixed and given randomly to patients attending mental health community center and a couple to hospital in patients.
Two patients declined participation.
Results
:
Forty-five mentally ill patients completed the questionnaires. I found that 60% of patients preferred a casually dressed person to the one wearing a religious uniform.
Twenty five percent had very strong positive feelings towards a social worker dressed in a religious uniform as well as towards the social worker dressed in casual clothes. In other words, 25% had expressed extreme view of liking either.
Fifteen percent had strong negative feelings towards somebody dressed in a religious habit or casually dressed.
The majority of patients preferred social worker dressed in casual clothes.
Some patients wrote uninvited comments on the questionnaire such as having difficulty trusting a religious person e.g. with intimate problems of sexual nature. There were also verbal comments by patients when questionnaires were handed. Some told of memories of oppressive religious upbringing and that they could not criticize religious.
Discussion:
United Kingdom has policies of religious diversity in public life. When I
enrolled
to study a political course I was amazed that this was recognized as: " religious diversity at the price of social justice". Clearly, what was new to me was perfectly well known to political academics.
There is a long history of religion coming before the interests of the patients in public institutions, apparently.
During Labour Government, Department of Health issued guidance on uniforms worn when working with ill people. It lacks clarity as to where religious uniforms are danger to health and safety but it does say that health and safety comes. But who is going to
interpret
it to whom when mentally ill still suffer neglect?
As far back as 1998 Economic and Social Research Council published: Taking Stock What do we know about violence? The Economic and Social Research Council is the
UK's
leading research and training agency addressing economic and social concerns. It describes its "aim to provide high quality research on issues of importance to business, the public sector and government. The issues considered include economic competitiveness, the effectiveness of public services and policy and our quality of life".
In its publication mentioned above it concludes:
"Those who experience discrimination because they are gay or lesbian, have experienced psychiatric treatment, or have mental health problems, are members of disabled, disfigured, racial, religious or 'ethnic minorities', also report high levels of violence.
Twelve percent of priests were physically attacked compared to ten percent of police. Seventy one percent of clergy had been verbally abused or threatened with violence in the same two year period according to this mainly government funded research body.
On 17
th
November 1999 I blew the whistle on the wearing of religious uniform by a social worker. It was ineffective in terms of the action taken by Social Services in Harrow or Department of Health. They continued to employ the nun for several years until she left to work for a residential home for the elderly run by Catholic Church where she is a manager now. She still does work in NHS too.
The Royal College of Psychiatrists, with religious President, decided the issue of religious uniforms, when mentioned at the Public Policy Committee was not part of the College's responsibility to take a view on in 2001 but they eagerly formed Spirituality Special Interest group for themselves previously. My pleading letter was sent to Spirituality Section of the Royal College of Psychiatrists!
In 2003 I was found guilty of serious professional misconduct by the General Medical Council (
GMC
), London for offending the Catholic nun because I invited her to a meeting to discuss the issue of wearing the religious uniform. Of course, this cannot be professional misconduct and even less so serious. However, I mention it to illustrate just how incompetent that Fitness to Practice Panel at General medical Council was.
One of the members of the Fitness to Practice Committee that judged me so wrongly was a Secretary of
Christian Medical Fellowship who wrote of his belief that demons cause epilepsy and who thinks psychiatry is a specialty down the corridor so he would never practice it.
Another member of the same committee knew the person who brought complaints against me to
GMC
. This is a double bias. I did appeal to High Court, but they tend to rubber stamp
GMC
decision. There is religious bias/other authority in High Court.
Only in December 2006 Department of Health promised guidelines on uniforms following requests for clarification by a Conservative MP in Parliament. I think he was worried about Muslim dress and communications.
I wrote continuously to various politicians since 1999 without success.
In 2007, eight years after I raised the issue of wearing religious uniforms Department of Health produced the guidance on
workwear
. It is inadequate and, of course, ignores mentally ill, children and elderly. It puts the wishes of the workplace before the needs of the patients.
In 2007 Department of Health
NHS
guidelines on uniforms and work wear were sent to
NHS
trusts who were allowed to develop their own policies. None of the policies I have seen so far show any definitive statements about religious uniforms in mental health. Nobody wants to touch the subject, it appears to me.
There is a general statement that Health and Safety issues are primary concern.
Most professionals would not find time to study this safety issue and old scientific papers are not at all readily available as I found out. The original papers on uniforms in psychiatry are not to be found on the Internet or in most medical libraries. There is also the cost of obtaining them. Who would be so dedicated? Who would pay hundreds of pounds out of their own pocket to find out the results of research on uniforms in mental health?
The normal population has tendency towards secularism . Religious uniforms are off putting to patients but the needs of the mentally ill people have been ignored. This is not a spectacular surprise.
My recommendation is that no religious uniforms or non-religious uniforms should be worn in mental health settings This is in keeping with European Convention on Human Rights as well as Equality Law 2010. There are many places where religious people can practice their religion. Some are so very empty, for example, many churches.
There are many reasons why religious uniforms should not be allowed when working with mentally ill:
1. Equality and fairness for all mental health workers-no uniforms of any sort should be worn; religious or not.
2. Specific reasons e.g. violence prevention. There have been a number of murders of priests and nuns in the world already. Away from this extreme one finds that most of the clergy in UK have experienced at least verbal aggression (at least 70%)
3. Trust between patient and professionals is essential in order to obtain medical history and therefore, further down the line formulate diagnosis and plan treatment. Uniforms act as a barrier to trust.
4. Religious dogma against homosexuality, abortion, other religions, and races is not useful to say the least in mental health setting or any other public setting.
5. There are religious beliefs that mentally ill may be possessed by devil, demons and so on. Who needs that to burden and stigmatize patients further?
6. Those who have suffered abuse at the hands of clergy and have post traumatic stress disorder are more likely to suffer panic attacks. Those who suffer from panic attacks are more likely to die from heart problems. Recent research has confirmed the latter. People who have mental illness have reduced life expectancy by as much as twenty years. Why stress mentally ill people further in order to please the religious people?
7. Wearing of religious uniforms in National Health Service is like religious institutions getting advertising for free in state funded health settings. We would not accept people wearing e.g.
Mc
Donalds
Restaurant uniforms to come to work in
NHS
. So why allow religious uniforms?
Limitations of the study:
This is the first research in the world on the wearing of religious uniforms and bigger and better studies could follow.
Substantial discussions on this subject could be easily developed further.
There are a number of aspects that have not been addressed at all e.g. fear of religious authority. Perhaps some people would express strong positive answers about the attractiveness of religious uniforms when in fact they do not like it at all. Strict religious upbringing could result in this false answers. Similarly, some people may react in the opposite direction and have intense dislike of religious uniforms based on their bad experiences or views.
European Court of Human Rights has already decided that the right to religious
expression
is not absolute right and when there are already established rules these should be respected. Thus a Sikh was not allowed to wear his turban on his passport photograph in France. This is in sharp contrast to what British High Court decided
e.g
. Sikh can wear his turban instead of a motorcycle helmet. Perverse, is it not! European Court ruled for Switzerland that Muslim teacher could not wear her scarf to classroom because children are impressionable and could develop wrong impressions what the school stands for. So right.
We have established rule in UK that uniforms should not be worn in psychiatry and therefore, a nun or a priest should respect it.
Medical institutions such as
GMC
and the Royal College of Psychiatrists in London, UK, have unfortunately, so far, failed to use their authority constructively and have shown religious bias on this particular issue and the reluctance to even address the arguments. Ethics Committee refuse to think of it from patient perspective and have been dominated by religious leadership for years. Their obsession is to please religious workers.
The government has been deprived of good professional advice and guidance in the development of its policies because the Royal College of Psychiatrists is dominated by religious lobby and cannot think of putting patients first. So embarrassing for the whole country.
Last year Center for Constitutional Rights from USA filed communication to International Criminal Court in Hague with about 20,000 pages of evidence with respect to child abuse by Catholic clergy and the cover up at the highest levels of Holy See.
It is thought that cannon lawyer Thomas Doyle blew the whistle on Vatican on that one and watch it here to see him speak about it.


References:1. Allan C,

Heffernan

C,

Pallent

S, Weaver L.Uniforms: a strange custom?

Nurs

Times. 1992 Sep 2-8;88(36):51 No abstract available

PMID

: 1528753;

UI

: 924094062. Smith D.Uniforms: worn out.

Nurs

Times. 1990 Jan 17-23;86(3):32-5. No abstract available.

PMID

: 2353951;

UI

: 901382133. Lavender a.The effects of nurses changing from uniforms to everyday clothes on a psychiatric rehabilitation ward.Br J Med

Psychol

. 1987 Jun;60 (Pt 2): 189-99.

PMID

: 3620396;

UI

872995414.

Trauer

T, Moss AV.Psychiatric patients' opinions of nurses ceasing to wear uniform.J Adv

Nurs

. 1980 Jan;5(1):47-53.

PMID

: 6898235;

UI

: 801163925.

Rinn

RC.Effects of nursing apparel upon psychiatric inpatients' behaviour.

Percept

Mot Skills. 1976 Dec;43(3 pt. 1):939-45.

PMID

: 1012875;

UI

: 771018496. Klein RH, Pillsbury J,

Bushey

M, Snell S.Psychiatric staff: uniforms or street clothes?Arch Gen Psychiatry. 1972 Jan;26(1):19-22. No abstract available.

PMID

: 5009421;

UI

:720965527. Brown

JS

,

Goldstein

LS.Nurse-patient interaction before and after the substitution of street clothes for uniforms. Int J Soc Psychiatry. 1967-68 Winter; 14(1):32-43. No abstract available.

PMID

: 5601658;

UI

:690154648.

Stanko

EATaking Stock what do we know about violence?1998,

ESRC

Violence Research Programme;

Brunel

University,

Uxbridge

.

Middlesex

UB

8 3PH, UK ISBN: 1872166 94 6
UPDATED 14-3-2011