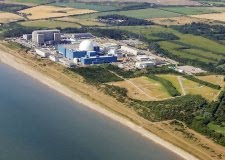 Photo Sizewell. UK.
Following the disaster of tsunami at
Fukushima
where back up electric power failed (required to pump water for cooling) and with it the capacity to cool down the plant one cannot fail to see here another nuclear plant so close to water and yet so far. Should one have different designs with back ups less dependent on batteries?
Nuclear whistleblowers in USA did point to various dangers of this reactor many years ago.
How elastic should the structures be to enable it to withstand the earthquakes? The horrific pictures of exposed nuclear rods is almost too much to bear. Alternatively, should some structures be burred? Engineers are the ones who can answer these questions and weigh the risks.
All nuclear plants must be reviewed now for safety threats due to natural disasters in order to improve current and future plant designs. Earthquakes will happen again. They may happen in areas considered safer than Japan. The world is hungry for power but not good at fortune telling.
Widespread distrust of officialdom has led to panic buying in many countries of things like potassium iodide salt tablets in hope to absorb the radiation if it spreads to the rest of the world.
Nuclear whistleblowers are from different professions: some are scientists but not all. Mr Latif Amin, British nuclear whistleblower was a customs official who was sacked for talking to journalists about nuclear smuggling.
WikiLeaks report on whistleblowers from General Electric about the lack of safety at Fukushima to Japanese Governement is
here
. There was a cover up and falsification of records by Japanese and some GE worker as well.
Japanese Whistleblower Act came late.
The culture of corporate loyalty has much to offer as I know only too well from my own working for a Japanese company when I was a medical student. However, whistleblowing although it may seem paradoxical is an act of loyalty. People who do not care do not bother to criticize or expose the failures.