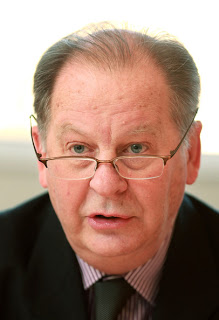 Recently Sir Ian Kennedy who was in charge of Healthcare Commission gave evidence at Mid Staffordshire inquiry trying to justify his censorship of the report which showed excess death rates in patients (anywhere between 300-1200 people) at Mid Staffordshire NHS Foundation Trust.
The report and the figures were eventually leaked in 2009.
Now in 2011 questions are answered from the comfort of the retirement, presumably.
In one of Healthcare Commission report there was eventually, mention of maternity unit at Northwick Park Hospital with mothers's high mortality rates (five times national average) and problems with hygiene. Out of emergency measures that unit quickly was taken out and three more deaths followed including one of their own staff.
Mental health services at Northwick Park Hospital, interestingly, also had longstanding problems like the abuse of the elderly and high suicide rates as well as persecution of a whistleblower.....These are not in any report by Healthcare Commission.
Newspapers reported on elderly being tied up to chairs etc click
HERE
to read more.
We are not aware that Dr Peter Jefferys (ex Medical Director of Mental Health Unit and one of General Medical Council Fitness to Practice Panelists and Consultant in Psychiatry of Elderly reported the abuse of the elderly patients to any regulator, although he has been known to complain about professionals when there was no legitimate reason to do so other than fear for his own reputation.
Sir Ian Kennedy also worked at General Medical Council for nine years. Click on his photograph to read his cv,