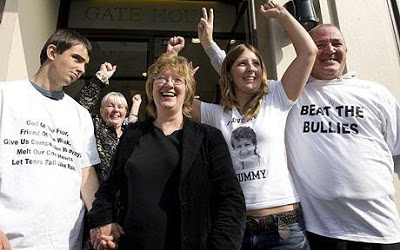 Ms Yvonne
Hossack
, solicitor is pictured on the left wearing all black following the decision made by Solicitors Disciplinary Tribunal in September 2009 with no sanctions against her practice.
She suffered bullying from her own Witness Expert, Dr Peter
Jefferys
, Consultant Psychiatrist, who complained to Solicitors' Regulation Authority after she complained about him to his regulatory body the General Medical Council. He was already a member of their own Fitness to Practice Panel since 2001 although he failed to declare his interest as is compulsory by GMC policy. The General Medical Council (GMC) stood by their man. In revenge, Dr Peter
Jefferys
complained about solicitor Yvonne
Hossack
to Solicitors' Regulation Authority (
SRA
). They rejected his complaint, but he escalated it to Legal Service Ombudsman who wrote to
SRA
but made
no
order that
SRA
must investigate Ms
Hossack
. This time
SRA
took up his complaints and in particular that she breached her client confidentiality by writing to
GMC
and disclosing their names in the psychiatric reports written by Dr Peter Jefferys. In her defense Ms
Hossack
according to published findings by Solicitors Disciplinary Tribunal relied on Rule 16.02 of Solicitor's Practice Rules 1990. I cannot find such a rule but there is 16E(2) which are the amended rules from 2007. Solicitors Disciplinary Tribunal decided Ms Hossack breached client confidentiality but that the breach was small. In fact, what went wrong is that the law was not followed by the Tribunal. Data Protection Act 1998 allows for disclosures of sensitive personal information under certain conditions and provisions have been made. Data Protection Act 1998 Schedule 2 and Schedule 3.
It appears that Solicitors Regulation Authority or Law Society did not update Solicitors Practise Rules 1990 with Data Protection Act 1998 for a little while until 5th April 2006.
However, Ms
Hossack
did not breach confidentiality at all unlawfully if Data Protection act 1998 principles are applied.

In his letter to
SRA
Dr Peter
Jefferys
stated that he was a lay member of Bar Council. Well, Bar Council never had any lay members although it did have some committees which did have lay members and Dr Peter
Jefferys
was a member of one of those: Professional Conduct and Complaints Committee of the Bar Council. Bar Council was the governing body of that committee. Members of Bar Council include Attorney General and Solicitor General.

Both Code of Conduct for Solicitors and Code of Conduct for barristers need to be written better and stress the fact that the code is unable to predict all life situations and that law must prevail and not the code. Well, who wants to write something like that after all the great effort of writing the code? However, I did research to find what other people have done and yes, other organizations had the courage to say it. Barristers Code of Conduct is particularly funny in that respect as it uses the words: "Must obey". Humanity comes before Codes which have to be corrected so many times. Lets be honest and put in a nice introduction to each Code of Conduct and say something about the difference between the code and the laws.

Defending oneself is harder than doing work for other people. Barristers and solicitors suffer a great deal of anguish when faced with a persistent bully and authorities who trust them. When they are defending themselves and sometimes there is no other option, the pain is huge.

Stress can be overwhelming, concentration can suffer, and the person can be just so glad it is all over that they do not want to face the fact that their reputation has been damaged and that they have the right to appeal. European Court of Human Rights recognized that even a warning by a regulator is damaging. Even without any sanctions on professional practice. There is no warning issued in such words to Ms
Hossack
, but the fact that they found she has breached client confidentiality is not good. She never did and that needs to be said and known.

Generally speaking, stress can raise steroid levels and depression is one of the consequences. Lack of motivation and low energy are well recognized symptoms. So is the increased weight. Therefore, I would say that one could stick Health and Safety warning on both solicitors and barristers Code of Conduct: Law first, Code second.
date

Tue, Feb 15, 2011 at 3:35 PM

subject

Re: Dr Peter Jefferys



hide details

Feb 15 (8 days ago)



I can confirm that the Bar Council itself has never had lay members, however some of its committees do have lay members. Dr Peter Jefferys was a lay member of the Professional Conducts and Complaints Committee of the Bar Council in 2005, for one year only.
In 2006, the Bar Council separated its regulatory and representational functions with the Bar Standards Board assuming responsibility for the Bar Council's regulatory work. The functions of this committee have therefore been assumed by the Complaints Committee of the Bar Standards Board.
No. 9959-2008
IN THE MATTER OF YVONNE HOSSACK, solicitor
- AND -
IN THE MATTER OF THE SOLICITORS' ACT 1974
______________________________________________
Mr D Green (in the chair)
Mrs J Martineau
Mr G Fisher
Date of Hearing: 14th - 16th, 18th September 2009
______________________________________________
FINDINGS
of the Solicitors' Disciplinary Tribunal
Constituted under the Solicitors' Act 1974
______________________________________________
An application was duly made on behalf of the Solicitors Regulation Authority ("SRA") by Jonathan Richard Goodwin of Jonathan Goodwin Solicitor Advocate, 17E Telford Court, Dunkirk Lea, Chester Gates, Chester, CH1 6LT on 15th April 2008 together with a supplemental statement dated 27th March 2009, that Yvonne Hossack of Hossack Solicitors, Fern Villas, 26 The Grove, Kettering, Northamptonshire, NN15 7QQ might be required to answer the allegations contained both in the statement that accompanied the application and in the supplemental statement and that such Order might be made as the Tribunal should think right.
The allegations against the Respondent, Yvonne Hossack, were that:-
1. She had accepted and had acted on instructions from third parties without seeking clarification of the position directly from her clients, contrary to Rule 1 (c), (d) and (e) of the Solicitors Practice Rules 1990 ("SPR") and/or Principle 12.05.
2. She had provided confidential information to a third party without the consent of her client(s), contrary to Rule 1 (c), (d) and (e) of SPR and/or Rule 16E (2) of SPR.
2
3. She had breached the terms of Rule 1(c), (d) and (e) of SPR and/or Rule 16.01 of the SPR by virtue of her disclosing confidential information to a third party.
4. She had breached the terms of Rule 1(a), (c), (d), (e) and (f) of SPR by virtue of her conduct in certain litigation matters.
5. She had breached the terms of Rule 1.01, 1.04, 1.06 and/or 2.01 of the Solicitors Code of Conduct 2007 ("SCC") by virtue of her bringing an application to the Court on 19th December 2007 on behalf of three adults in respect of Hull City Council's proposed closure, at a time when the Respondent had not been instructed by those individuals, and notwithstanding that the individuals concerned had been represented by an Independent Mental Capacity Advocate who had not instructed the Respondent.
6. She had breached the terms of Rule 1.03 of the SCC by virtue of writing to clients and improperly and inappropriately urging and encouraging clients and others to engage in a media and political campaign.
The application was heard at the Court Room, 3rd Floor, Gate House, 1 Farringdon Street, London EC4M 7NS on 14th - 16th and 18th September 2009 when Jonathan Richard Goodwin appeared as the Applicant and the Respondent appeared in person.
The evidence before the Tribunal included thirteen witnesses who gave evidence before the Tribunal together with written statements from other witnesses and four Lever Arch files of documents.
At the conclusion of the hearing the Tribunal did not make any Order.
The facts are set out in paragraphs 1 - 101 hereunder:-
1. The Respondent, born in 1956, was admitted as a solicitor in 1981. Her name remains on the Roll. At all material times the Respondent carried on practice on her own account under the style of Hossacks Solicitors from offices at Fern Villas, 26 The Grove, Kettering, Northamptonshire, NN15 7QQ.
2. By letter dated 1st June 2006, Willmett solicitors ("Willmet"), had written to the Law Society pursuant to an Order of Holman J made in Court proceedings dated 16th May 2006. Willmet had acted on behalf of the Defendant (Sue Ryder Care), with the Claimant(s) being represented by the Respondent. The Claimants in the proceedings had been residents of The Old Hall, Snettisham, Northolk ("The home"). The Order of Holman J, dated 16th May 2006 had refused permission to apply for Judicial Review and had provided, inter alia, that:-
"The statement of Philip Luxford dated 16th May and the statement of Yvonne Hossack dated 16th May and any other relevant papers from these proceedings be sent to each of the Professional Conduct Committees of the Law Society and the Legal Services Commission so that they may respectively, if they think fit, investigate any matters arising in particular from paragraphs 32 to 40 of Mr Luxford's statement".
3
3. The background to the litigation was that it had been proposed that the home should closed due to financial difficulties and the residents be transferred to new homes. Notification of the closure had been made on 22nd March 2006, with the proposed closure date being 30th June 2006.
4. It was understood that certain of the relatives of the home's residents had sought legal advice regarding the proposed closure and had attended a meeting with the Respondent on 5th April 2006. The Respondent had suggested that a way to prevent the closure of the home would be by way of Court proceedings. The Respondent having advanced her proposals, had allowed the relatives time to consider the position before accompanying those who had agreed with her suggestion to the home to meet their family members, that is to say the potential clients ("the residents").
5. The Respondent had informed the residents of her proposals. It was understood that the meeting had been held as a group session rather than on an individual basis. Those who had wished to proceed had completed legal aid applications and other relevant documents following the meeting.
6. The Respondent had been informed that one of the residents, Ms T had no known relatives, but upon hearing of the Respondent's proposals, via a friend, had expressed a wish to speak with the Respondent. The Respondent had met with Ms T on a one to one basis on 5th April 2006, and having assessed Ms T had been satisfied that she was capable of giving instructions in relation to the matter.
7. Following the meeting with Ms T, the Respondent had discussed matters with Ms T's friend, Ms RC.
8. Subsequently, the Respondent had represented Mr EE, Miss WL, Mr AN and Ms T in Court proceedings. A letter of claim had been submitted by the Respondent to Sue Ryder dated 10th April 2006 confirming the same.
9. The residents, save for Ms T, had signed legal aid and other relevant documentation. Subsequently Ms T had signed documentation in the presence of Ms RC. Ms RC had advised the Respondent to contact Mr Maurice Lawrance, who was believed to have had a Power of Attorney for Ms T, and had been able to provide the Respondent with information relating to Ms T's financial affairs, sufficient for the Respondent to assess Ms T's entitlement to legal aid.
10. By letter dated 26th April 2006, the Respondent had instructed Dr Zapata-Bravo, a Consultant Psychiatrist, to assess Ms T.
11. As the claim progressed Mr Lawrance had formed the view that it would be in Ms T's best interests to move her and steps had been taken for her to visit another home. The Respondent had been advised of this on 4th May 2006.
12. On 5th May 2006 the Respondent had contacted Dr Zapata-Bravo to discuss Mr Lawrance's intentions and had been informed that no pressure or influence should be placed on Ms T, as she was vulnerable in every way and at risk of ill health. The
4
Respondent had been further advised that Ms T was no longer able to weigh up competing arguments on whether to stay or to leave the home.
13. On 7th May 2006 the senior nurse (Mrs K) at the home had received a call from the Respondent in relation to arranging a visit to see Ms T. Mrs K had advised the Respondent that Ms T was due to leave the home that day and that it was highly unlikely that the Respondent would see her before she left.
14. The Respondent had enquired of Mrs K as to whether, in her opinion, Ms T wished to move and had been advised by Mrs K that that was not the case.
15. The Respondent had contacted Mr Lawrance and had asked him to wait for the issue of the medical report before moving Ms T which the Respondent said Mr Lawrance had refused to do.
16. On 7th May 2006 the Respondent had obtained an emergency Order on behalf of Ms T, upon her undertaking to the Court to use her best endeavours to ensure that Dr Zapata-Bravo contacted Sue Ryder Care before midday on 8th May 2006 and gave appropriate advice with respect to any risk to life of moving Ms T.
17. By faxed letter dated 8th May 2006 the Respondent had written to Dr Zapata-Bravo explaining the position and the Order she had obtained from the Court and had asked if he could contact the home.
18. By letter dated 8th May 2006, Dr Zapata-Bravo had faxed a letter to the home setting out his position.
19. On 9th May 2006 an email had been sent on behalf of Mr Luxford, the Deputy Chief Executive and Company Secretary of Sue Ryder Care, to Mr Lawrance discussing the events of the previous days and expressing a request for confirmation as to who had been instructing the Respondent on Ms T's behalf in the proceedings.
20. Mr JR had been subsequently added to the proceedings. The Respondent had forwarded documentation to Willmett, the firm instructed on behalf of Sue Ryder Care. By letter dated 9th May 2006, Willmett had written to the Respondent making reference to what purported to be consent forms from five named clients provided by the Respondent.
21. Willmett had indicated that no general form of consent or medical consent form had been enclosed for Ms T or for Mr JR. On 9th May 2006 the Respondent had replied by return of fax when she advised that Ms RC had omitted to obtain Ms T's signature to the consent form.
22. By letter dated 9th May 2006 Willmett had responded by return of fax expressing concern as to Ms T's capacity and position.
23. By email dated 10th May 2006 Mr Lawrance had contacted the Respondent and had raised a number of matters of concern, including the Respondent's failure to advise him of the reason she had required details of Ms T's income and had he known that it had been for legal aid purposes, he would certainly have given further thought to the
5
position and to the circumstances in which documentation came to be signed by Ms T. Mr Lawrance had said, among other things;
"I had no knowledge of the meeting you had with [Ms T]. It was only when I received a copy of your letter to IH dated 10th April 2006, after you had sent it, that I knew you were acting for [Ms T]. At no time did I instruct you to fight Sue Ryder Care. I certainly waxed lyrical about the disgusting way Sue Ryder had dealt with [Ms T] as I myself have made known to Sue Ryder Care but this is a separate issue. The concern of all [Ms T's] friends, including myself, has been entirely focused on trying to discern [Ms T's] wish. This was, we believe, to move to RC. It appears from a conversation I had with you after the letter had been sent to IH that your decision to fight was when you raised the question with [Ms T] and she raised her "two clenched fists".... clearly because of our love for [Ms T] we considered most carefully the Consultant's opinion which he conveyed to us. However, we believe now that we discern [Ms T's] wish correctly, because certainly her health is being detrimentally affected by the increased uncertainties and anxiety. I have received an email from the Deputy Chief Executive and Secretary of Sue Ryder who request confirmation that the action taken by Hossacks has not been sanctioned or instructed by me. I propose to confirm this by email this afternoon."
24. The Respondent had replied to Mr Lawrance's email on 10th May 2006 raising a number of points and indicating that Ms RC had expressed the belief that Ms T had mental capacity and it had been on that basis that it had been deemed that Ms T had been in a position to instruct her. The Respondent had indicated that she had taken confirmation of instructions to act on Ms T's behalf from Ms RC as it had been in Ms T's best interest to do so and that Ms T had had mental capacity to instruct and had been able to sign documentation. However, as subsequently Ms T had been unable to weigh up competing arguments regarding the move, the Respondent had believed that it had not been in Ms T's interest to move and, therefore, the Respondent had had no alternative than to obtain an Order for the restriction of the move.
25. By email dated 12th May 2006 Mr Lawrance had confirmed to Mr Luxford that the action taken by the Respondent had not been sanctioned or instructed by him. He had said;
"This whole affair is most distressing as I am satisfied beyond any reasonable doubt that [Ms T] wished to move to RC. No pressure was placed on [Ms T] to move as her friends' only interest was to discern her wish at this very critical stage of her life."
26. By letter dated 15th May 2006 the sister of Miss L, Mrs L, had instructed the Respondent to cease any action on behalf of Miss L. Mrs L had also advised Mr Luxford of her position by letter dated 15th May 2006. Mrs L had stated in her letter;
"I enclose a copy of a letter I have today faxed to the Solicitors Ms Y Hossack of Hossacks, asking them to cease any action on behalf of my sister, [Miss L], and the Sue Ryder Charity. This has caused both myself and my sister considerable stress and was never explained to me thoroughly and I regret any problems this might have caused. I have found another home where I am sure
6
[Miss L] will be happy (although nothing can compare to Sue Ryder at S) and I can visit her there. Once again please accept my apologies for any inconvenience this might have caused Sue Ryder. I thought I was acting for the benefit of my sister, but now realise that all this action has done is cause her, myself and my family stress we do not need".
27. Both the Respondent and Mr Luxford had submitted statements in connection with the litigation, such statements being dated 16th May 2006.
28. Following Holman J refusing the application for Judicial Review on 16th May 2006 and referring the matter to the SRA for consideration of any action to be taken, the Respondent had written to the Court Manager on 17th May 2006 explaining her position.
29. By letter dated 18th October 2006 the SRA had written to the Respondent seeking her explanation.
30. By letter dated 29th November 2006 the SRA had raised further matters by way of clarification with the Respondent. The Respondent had replied by email dated 30th November 2006.
31. By letter dated 8th December 2006 the SRA had sought further clarification from the Respondent.
32. By letter dated 29th June 2007 the SRA had forwarded a copy of the case report to the Respondent. The Respondent had replied by email dated 17th July 2007 indicating, inter alia, that the SRA had misunderstood the position.
33. The matter had been considered by an Adjudicator on 31st July 2007, who having made various findings against the Respondent had resolved to impose an internal sanction. The Respondent had been notified of the decision by letter dated 3rd August 2007.
34. The Respondent had replied by email dated 3rd August 2007 giving notice of her intention to seek a review of the Adjudicator's decision. By letter dated 17th August 2007 the Respondent had lodged her grounds for review.
35. The matter had been considered by an Adjudication Panel on 4th October 2007 who had resolved to revoke the determination of the Adjudicator at first instance and to refer the conduct of the Respondent to the Solicitors Disciplinary Tribunal. The Respondent had been advised of the Adjudication Panel's decision by letter dated 5th October 2007.
Allegation 3
36. In 2003 the Respondent had instructed Dr Jefferys to prepare a medical report in respect of eight clients/residents in relation to proceedings concerning the proposed closure of a care home by Bristol City Council. Dr Jefferys had produced a report dated 4th June 2003.
7
37. Approximately twelve months later, Dr Jefferys had been jointly instructed by the Respondent and Bristol City Council to review the health needs of three of the clients/residents; GR, FS and NH. Apparently the other five clients/residents had agreed to be moved to a new home or had died.
38. Dr Jefferys had produced his report on 9th July 2004. Both the Respondent and Bristol City Council had asked Dr Jefferys to provide clarification in relation to certain matters. Dr Jefferys had produced a further report for Bristol City Council dated 28th July 2004 and a further report for the Respondent dated 29th July 2004.
39. In the report dated 28th July 2004 provided to Bristol City Council, Dr Jefferys had indicated that a move from Rushlands was likely to result in a reduced life expectancy for the three clients.
40. In the report to the Respondent dated 29th July 2004, Dr Jefferys had indicated that there was adequate time for satisfactory preparations to be made prior to transfer for each of the three residents, if Bristol City Council made adequate resources available. He had not mentioned that in his opinion their life expectancy might be reduced if they were to be transferred.
41. Upon discovering the contents of the report dated 28th July 2004, the Respondent had challenged Dr Jefferys and had sought an explanation as to the apparent inconsistency between the two reports.
42. Having received, in the Respondent's mind no satisfactory answer, she had informed the litigation friends of the three clients still in residence at Rushlands, and had advised that a complaint should be made regarding Dr Jefferys to the General Medical Council ('GMC').
43. In relation to FS, the client matter file had contained a telephone attendance note dated 22nd October 2004 indicating that the litigation friend, AS 'Wants me to complain to GMC about Peter Jefferys.'
44. There had been nothing in the other two files relating to GR and NH to suggest that the Respondent had obtained specific instructions to make a complaint.
45. However, in all three files there was a letter dated 16th November 2004 to each respective litigation friend, confirming a complaint had been made. The files did not record any objection having been raised.
46. In relation to the other five clients, there had been no evidence on the matter files that the Respondent had sought consent to disclose medical evidence regarding the clients from either the client, or from the litigation friend.
47. The letter of complaint from the Respondent to the GMC was dated 1st November 2004. That letter indicated that the following enclosures had been sent with the 1st November 2004 letter:-
(i) Letter to Dr Jefferys dated 6th August 2004 - contained no confidential information re any patient.
8
(ii) Medical report dated 28th July 2004 - contained confidential medical information regarding FS, GR, and NH.
(iii) Medical report dated 29th July 2004 - contained confidential medical information regarding FS, GR, and NH.
48. However, by letter dated 10th June 2008 the GMC had confirmed to the SRA that the documents disclosed to the GMC by the Respondent had included the above mentioned documents, and had also included copies of Dr Jeffery's reports dated 4th June 2003 and 9th July 2003.
49. The report dated 4th June 2003 made reference to the original eight clients/residents. The report of Dr Jefferys dated 9th July 2004 made reference to three clients/residents, GR, FS and NH.
50. By letter dated 30th August 2006 Dr Jefferys had asked the Legal Services Ombudsman ('LSO') to consider a decision of the SRA. The LSO had reported to the SRA by letter dated 20th November 2007, following which the SRA had considered the matter further.
51. By letter dated 8th February 2008 the SRA had written to the Respondent seeking her explanation in relation to certain matters.
52. The Respondent had replied by email dated 12th February 2008. She had confirmed that she had acted for all of the people referred to in Dr Jeffery's reports. The Respondent said that;
"If this was an error of judgement then I do of course apologise for it, but it was done in the utmost good faith'.
53. By letter dated 22nd April 2008 the SRA had written to the Respondent seeking her explanation in relation to three clients; FS, GR and NH. (At that date it had not been known that the Respondent had also disclosed Dr Jeffery's Reports dated 4th June 2003 and 9th July 2004.)
54. The Respondent had replied by email dated 23rd April 2008, and had indicated that both Mrs S and Mrs I had given verbal instructions to report Dr Jefferys to the GMC and that Mrs S's instructions had been in writing but were missing from the file. The Respondent had said that Mrs S had since confirmed that she had given those instructions in writing.
55. The Respondent had indicated that she had signed the GMC disclosure consent form, had had the consent of persons authorised on behalf of FS and GR, but not of NH. The Respondent had confirmed that she had sent the documents as they had been prepared by Dr Jefferys in their entirety, to the GMC and that;
"It did not occur to me that I needed the consent of the client or their litigation friends as I am required to send confidential data to my own professional body without the clients consent or even their knowledge. Nevertheless I was open
9
with my clients, kept them informed of what I had done, and there were no complaints or concerns raised".
56. It had been following a letter from Dr Jefferys dated 8th May 2008 which had led the SRA to make further enquiry as regards documents disclosed by the Respondent to the GMC.
57. Following receipt of confirmation from the GMC as to the entirety of the material disclosed by the Respondent to the GMC, the SRA had written to the Respondent on 19th June 2008 seeking her explanation in relation to the disclosure of confidential information regarding the eight clients.
58. The Respondent had replied by letter dated 17th July 2008, and had made the following points;-
(i) The Respondent had accepted that the earlier reports were also sent to the GMC.
(ii) The Respondent had suggested that Rule 16.02 overrides the duty of confidentiality in certain exceptional circumstances, which she dealt with at point 4 of her reply.
(iii) The Respondent had reiterated that she believed that she was acting in good faith.
Allegation 4, 5 and 6
59. By letter dated 17th July 2008 Browne Jacobson Solicitors had written to the SRA making complaint as regards the Respondent's conduct.
Staffordshire County Council Litigation
60. In or around March 2007 the Respondent had acted on behalf of a MJT and others in a claim for Judicial Review against Staffordshire County Council ('Staffordshire') in relation to decisions regarding the closure of its care homes. Mr Kenneth Parker QC had refused to grant permission to the Claimant to proceed to Judicial Review on 23rd March 2007.
61. Mr Parker QC had concluded that Staffordshire had made only an "in principle" decision to close the homes and was committed to undertaking a full public consultation before any homes were closed, and that the claimant's contention that a decision had been reached without lawful consultation, was unarguable.
62. Notwithstanding that decision, on 26th March 2007, the Respondent had issued a new claim for Judicial Review on behalf of her client Eugene Hide, who it was understood had been resident in the same care home.
63. The matter had come before Mr Justice Wyn Williams on 4th April 2007, when Mr Justice Wyn Williams had stated that, inter alia,
10
"It is common ground that the claim before me is, in effect, identical in concept to the claim which was before Mr Parker QC."
64. Whilst the Respondent had attempted to argue that the situation had changed, the Court was not persuaded that the position had changed, and had refused permission to proceed to Judicial Review and had refused permission to appeal.
65. However, the Respondent had sought permission from the Court of Appeal to appeal Mr Justice Wyn Williams' refusal of permission. Permission had been refused on the papers by the Right Honourable Sir Henry Brooke. The Respondent had renewed her application.
66. The matter had been considered before the Court of Appeal on 4th July 2007, when permission to appeal had been refused. Moses LJ had said:-
"Were all these people in this open Court informed this application for permission to appeal was listed to last half an hour?." The Respondent had replied "Yes they were".
67. During the course of the hearing the Respondent had submitted in open Court;
"Please turn to page 22 of the papers attached to my witness statement. In Hillingdon, the Council found itself with insufficient residential nursing home provisions. The lead in that matter was KS, who I believe is the KS of whose witness statement we were recently looking. The potential extra investment for the increased purchase of residential nursing home provision for that authority was £750,000.00 - £1 million".
Lord Justice Moore-Bick:-
"It is probably my fault. I am not really sure what I am supposed to get out of that".
Ms Hossack:-
"You are supposed to understand how important it is that any decision reached by this Council is an open decision that they are able to make without being worried about their budget having already been set because it could financially bankrupt an authority if they are set by that decision.
If we look at page 26, this was when Mr S was at Swindon. At paragraph 6, my understanding is that he went to Swindon in June 2003. It was a zero - staff authority at that time. By 2004/2005, that authority still had zero staff. On page 29 the lead officer answers all the questions at the so called consultations. This is the officer who has been doing the witness statements. If we look at page 29, this is Swindon 18 months after Mr S joined it. In November the previous year, a Government inspection damned the work done. This is a press release, of course. On page 30, it says that his predecessor had resigned in 2002. But in 18 months to 2 years, it had not been proved."
11
Lord Justice Moore-Bick:-
"I am not sure this is going to help us deal with the particular problem with he have to grapple with today. These are all matters which you say tend to condemn the council's attitude".
Lord Justice Moses:-
"No, it is an attempt to blacken Mr S's curriculum vitae. Now he has moved on from Swindon, where it is now asserted publicly in open Court, he did so badly so as to influence is into this case about Staffordshire. That is what the Solicitor Advocate is trying to do today".
Ms Hossack:-
"My lord, it is not. I am trying to bring the Courts attention how very important it is for the people of Staffordshire that these matters are properly considered by a full Council and not by an individual who has failed in others. It is not only Hillingdon. It is not only Swindon. It is also Aberdeen".
68. In the meantime, Staffordshire had made an application to Mr Justice Wyn Williams for an Order relating to wasted costs against the Respondent personally. The Defendant's costs submissions prepared by Mr Stephen Knafler dated 8th April 2007 had particularised the grounds relied upon.
69. The application was heard on 23rd August 2007 and the judgement delivered on 26th October 2007. Mr Justice Williams found that, inter alia;
"For reasons which will become apparent I do not propose to dwell in any detail upon whether or not the Claimants Solicitor Advocate engaged in behaviour which can properly be regarded as improper, unreasonable and/or negligent. I am completely satisfied that her behaviour throughout the proceedings before me was unreasonable and negligent, at the very least. I reach that conclusion for the reasons which are advanced in the written submissions put in on behalf of the Defendant and elucidated orally by Mr Knafler, Nothing that Ms Hossack had written or said persuades me that the thrust of Mr Knafler's point should not be accepted. In short these proceedings were completely unnecessary. They were doomed to failure and a reasonably competent solicitor should have known as much. I accept that Ms Hossack was the driving force behind the proceedings although I do not go so far as to say that it was her campaign and that she stepped outside the role of legal representative.....I have reached the conclusion, however, that despite my finding that Ms Hossack behaved unreasonably and negligently I should not make an Order against her.
The reasons why I have reached that conclusion relate, essentially, to the very difficult financial circumstances in which Ms Hossack finds herself. I did wonder whether or not her financial circumstances was a matter which it was proper to take into account in exercising my discretion but Mr Knafler did not submit that it was not and I cannot see, as a matter of principle, why the effect
12
of an Order for wasted costs cannot be taken into account in deciding whether or not such an Order should be made".
70. By letter dated 24th September 2007 the Respondent had written to her clients and urged and encouraged them and others to engage in a media and political campaign.
Northamptonshire County Council
71. The matter of Grabham & Others - v - Northamptonshire County Council ('Northamptonshire') had considered an application for permission to apply for Judicial Review from come 40 Claimants, in relation to two decisions made by Northamptonshire regarding their provision for disabled adults.
72. The judgement of the Honourable Mrs Justice Black DBE was dated 21st December 2006.
73. The Respondent had been instructed for the Claimant SJG.
74. The background and history of the claim was summarised in the judgement. In essence Mr Justice Forbes had originally granted an interim injunction prohibiting the Council from setting its budget or taking any steps to implement its budget proposals.
75. His decision had been subsequently varied on 28th February 2006, and on 15th March 2006 the permission application had been refused.
76. The Respondent had proceeded with new Judicial Review proceedings on 27th September 2006 and had obtained an out of hours interim injunction, without notice, on 28th September 2006 over the telephone from Mr Justice Irwin.
77. That injunction had been set aside on 4th October 2006 by Mr Justice Stanley Burnton on the grounds of non-disclosure and the Court of Appeal had refused permission to appeal on 11th October 2006.
78. Mr Justice Stanley Burnton had said, inter alia;
"On the Thursday night application was made on the telephone by Ms Hossack on behalf of the Claimants. As I understand it, telephone calls took place from a railway station to the Judge. At the time the telephone calls took place, Ms Hossack had had read to her but did not have a copy of the letters of the Defendant dated 27th September responding both to the letter before claim and in a letter to the Administrative Court copied to her office, to the application for urgent relief. The contents of those letters were most material to any decision as to the grant of an injunction, showing, as they did, that the Local Authority did not, amongst other things, propose to reduce services to any of the Claimants on 1st October 2006. It was the imminence of a reduction in services which most affected the Judge in deciding to grant injunctive relief.
It was the duty of the Claimants and of the Claimants solicitors to put before the Judge any relevant material which he should have had before him in considering whether or not to grant an injunction and its terms as soon as it
13
became available to the Claimant's Solicitors. Had he already granted the injunction, in other words, it would have been her duty, once the letter came into her hand, to appraise the Judge of its contents with a view to giving him the opportunity to set aside the Order he had earlier made.
By 11 o'clock at night Ms Hossack did have the actual letters, or copies of the letters, of 27th September which had been sent by the Defendant. Their contents were not communicated to the Judge. It is not, quite rightly conceded on behalf of the Claimants, that their contents were immaterial.
In my judgement, in those circumstances the injunction which was granted should be set aside on the basis of non disclosure. I decline to exercise a jurisdiction, which undoubtedly the Court has, to overlook the non disclosure and to continue the injunction. I do so for these reasons. First, in my judgement, there was no good reason for the Judge not having read to him the terms of those letters at whatever time they were available. The fact that he had asked for other material which did not include the letters did not obviate the need to appraise him of the contents of the letter. His request and his decision, final or provisional, had been made on the basis of what he had been told, which did not include the contents of those letters.
So far as the question of balance of convenience in concerned, it is not in dispute that there were will not be a withdrawal of services to the Claimants on 1st October. Services to other person may, and probably will, be affected and that may have a knock on effect, but that knock on effect is not of such immediate consequence as to require the immediate grant of an injunction. It did not require the grant of an injunction when it was granted by Irwin J and does not require it today".
79. The application for interim relief had been renewed before Mr Justice Collins on 7th November 2006, before being dismissed by Mrs Justice Black on 21st December 2006.
80. Following the dismissal by Mrs Justice Black in December 2006 the Respondent, on behalf of her client, had sought to appeal the decision. On 22nd February 2007 Lord Justice Mummery and Sir Peter Gibson had refused permission to appeal not only on the substantive question of the refusal for permission to Judicial Review, but also on the Order for costs, fully endorsing the decision of Mrs Justice Black.
81. The Respondent had pursued further Judicial Reviews against decisions by Northamptonshire National Health Primary Care Trust and County Council in the matter of Norman which came before the Administrative Court on 3rd January 2007.
82. The Respondent had sought a further Judicial Review of Northampton County Council's decision in the matter of Fordham - v - Northamptonshire County Council. That matter had come before Andrew Nicol QC on 11th July 2006 and having refused permission, had described the claim as 'hopeless' and had Ordered 30% of the costs to be recovered from the Respondent.
14
83. In determining a costs application in the name of Norman - v - Northampton County Council dated 20th December 2006, Mr Justice Calvert Smith had stated; inter alia;
"You lost. You were pretty well bound to lose and they say they should not pick up the tab....There seems to be some ongoing crusade. We are getting into crusade country".
84. On 3rd January 2007 the Respondent had brought the Norman matter before the Court seeking urgent interim relief. Mr Justice Langstaff had dismissed the application and had reserved costs.
85. The Respondent had sought no Order for costs, to which Mr Justice Langstaff had responded;
"If I were to make an Order today it would be an Order which would condemn you in costs because of the failure, as it seems to me, to put your paperwork in proper Order, which has not assisted your client. I am not going to make any such Order. I am going to reserve costs. I say no more about it".
86. In Fordham - v - Northamptonshire County Council, the Respondent had issued proceedings on behalf of incapable adults in her own name as the Claimant. In dismissing the application Mr Justice Newman had said;
"I am particularly concerned about the application and its possible impact on the proposals which the Defendants are pursuing. I am unimpressed by the merits of this application and particularly concerned about the representation of the Claimants by Yvonne Hossack who had commenced Judicial Review proceedings in her own name which are, as I presently see it, misconceived. The existence of such proceedings raise doubts, due to the frailty of the Claimants, about the Claimants role in these proceedings. There is a risk that the Courts of Jurisdiction is not being appropriately invoked".
Hull City Council
87. Following the severe floods in Hull in June 2007, Hull City Council ('Hull') had undertaken a review of the impact on Community Care Schemes. The flooding had caused damage to a number of Council facilities including two care homes, one of which was Rokeby House. It had been necessary for residents to be evacuated and re-housed in care home accommodation.
88. The Respondent had made an application for Judicial Review of the decision of Hull to cease to provide residential care at Rokeby House. The Respondent had written a letter before action on the 9th November 2007, and had received a detailed reply on 20th November 2007, setting out that assessments would take place prior to any resident being moved.
89. The Respondent had raised further queries by email dated 23rd November 2007. The Council's Solicitor had immediately replied on the same day and had said, inter alia,
15
"As we have already undertaken that no resident will be moved without a care plan update and these are not complete we will (also) undertake not to remove any resident without prior notice to you prior notice to you prior to a substantive response to your email".
90. The Respondent had written again, on the same day, requiring the Council to provide access to a surveyor instructed by her to carry out a survey of Rokeby House on Monday 26th November 2007, and threatening to obtain a Court injunction if the request was not acceded to.
91. The Council's Solicitor had emailed back on 23rd November 2007 at 15.18 hours, indicating that she would take instructions on the request but had required further information and had suggested that the Council and the Claimant 'jointly instruct a surveyor who can be viewed as totally independent', and suggesting that the time scale was inappropriate, and that there was no need for an inspection on the Monday.
92. The Respondent had rejected the Council's approach. The Respondent had telephoned a Judge that evening and had obtained a telephone injunction at 8pm from Mr Justice David Clarke requiring the Council to allow access to the Claimants surveyor on 26th November 2007.
93. The Respondent had then issued an application requesting urgent interim relief, which had been rejected by His Honour Judge Gilbart on 30th November 2007. He had said that he had refused interim relief on the basis that the papers had failed to disclose even, 'a just arguable claim for Judicial Review'.
94. On 19th December 2007 the Respondent had made a further application for urgent interim relief, to prevent the transfer of 3 incapacitated adults from Rokeby House. That had been dismissed by Mr Justice Burnton as an inappropriate application, observing that 'It is in substance an inadmissible appeal against the Order...... of HHJ Gilbart QC'.
95. The Respondent had then made a further application by letter which had been refused on the 21st December 2007 by Mr Justice Wyn Williams who had observed, 'The reality is this claim had no prospects of success'.
96. The proceedings had been originally issued in the name of Hilda Milsom. On the 18th February 2008 the Respondent had informed the Defendant that the Legal Services
Commission had imposed a condition on the then Claimant's public funding certificate, that Counsel's opinion on the merits should be obtained, that a negative Counsel's opinion had been obtained, that the then Claimant's public funding had been discharged and that she would enter into a Consent Order withdrawing proceedings.
97. Subsequently, the Respondent had informed the Council that she had been instructed by another Rokeby resident, Mrs LW and that she had herself personally granted Mrs LW public funding using her devolved powers. The Respondent had proposed that Mrs LW be substituted for the Claimant.
16
98. No application had been issued and no claim form had been produced before the permission hearing.
99. The matter had come before Mr Justice King on 28th February 2008. He had granted permission to apply for Judicial Review.
100. Allegation 6 related to the Respondent bringing a claim on the 19th December 2007, in circumstances where she had not been instructed by the three adults. The adults had been represented by an Independent Mental Capacity Advocate.
101. By letter dated 11th September 2008, the Respondent had provided a detailed response, and had conceded that she was not instructed by the three individuals.
The Submissions of the Applicant
102. Before the Applicant began his submissions, the Tribunal was given details of the witnesses to be called by both parties. The Tribunal noted that the Respondent had requested video conferencing facilities for some three of her witnesses who were unable to travel to London. The Respondent had been informed that the Tribunal was unable to offer such facilities. However, the Tribunal noted that the Applicant did not wish to cross examine any of the three witnesses involved. The Tribunal agreed that their statements could be read into the record at the appropriate time in the proceedings. The Tribunal also noted that while the Applicant had not intended to cross examine the three witnesses, namely Sir Anthony Grabham, Hilda Milsom and Patricia Bliss, their statements were not agreed.
103. The Applicant stressed that the proceedings before the Tribunal were not about whether the Respondent was a caring person because there was no doubt that she was. The matter related to the six allegations before the Tribunal and the issue was whether the way in which the Respondent had conducted herself as a solicitor, and as an Officer of the Court, had been appropriate within the regulatory provisions of her profession.
104. The Applicant explained that there were three main areas of concern; the receipt of proper instructions, client confidentiality and the Respondent's behaviour in Court. A fourth discreet area related to the Respondent's use of publicity.
105. The Applicant stressed that it was essential for a solicitor to receive full and accurate instructions and that those instructions should be confirmed in writing. Clear instructions avoided misunderstandings. Written Authority should always be sought from the client before action, or in urgent circumstances, as soon as possible thereafter.
106. The Applicant referred the Tribunal to the relevant Solicitors' Practice Rules and to sections of the Solicitors Code of Conduct and also to the relevant guidance relating to instructions and to confidentiality.
107. The Applicant explained that the second allegation related, in particular, to a complaint made by Dr Jefferys. The Applicant noted that while the Respondent admitted the breach, she sought to rely on one of the exceptions to the Rule at 16.02.
17
However, the Applicant submitted that in the particular circumstances there had been no grounds on which to justify the breach of client confidentiality.
108. Turning to the third allegation, the Applicant stressed that as Officers of the Court, solicitors had duties not only to their clients but also to the Court. Solicitors were under a duty to discharge their retainer if instructed to take improper actions. The duty of solicitors to clients was subject to their duties as solicitors, to ensure the due administration of the law.
109. Allegation 6 arose from a letter from the Respondent to her clients in which she had encouraged them to become involved in a media and political campaign. The Applicant submitted that the Respondent had stepped outside her role as adviser into that of campaigner.
110. Although the Respondent sought to raise a legal point as to the admissibility of the letter in the proceedings before the Tribunal, the Tribunal was satisfied it was properly before it. No recipients had been identified and it contained no specific client information.
111. The Applicant took the Tribunal through the facts and the relevant documentation relating to the first allegation. He explained that on 1st June 2006 Willmett Solicitors wrote to the Law Society pursuant to the Order of Holman J made in proceedings against Sue Ryder Care on 16th May 2006. The Judge had ordered an investigation into matters arising in particular from certain paragraphs of the statement of Philip Luxford dated 16th May 2006. At that time Mr Luxford was the Deputy Chief Executive and Company Secretary of Sue Ryder Care.
112. The Applicant submitted that, in seeking an emergency injunction on 7th May 2006, the Respondent had been acting without instructions from her client Ms T and contrary to her wishes and to those of her Attorney, Mr Lawrance. In fact, there had been no written instructions or confirmation of instructions from Ms T. The Applicant stressed that the Respondent had not visited or contacted Ms T again after her initial visit to her on 5th April. The Respondent had had no specific instructions to stop Ms T's move. The Applicant submitted that the Respondent had proceeded on instructions from third parties. Moreover, that the medical assessment had ascertained that at the time of the emergency injunction proceedings Ms T had been unable to weigh competing arguments.
113. The Applicant referred the Tribunal to the relevant documentation leading up to and to the details of the decision of the Adjudicator dated 31st July 2007. The Respondent had submitted her appeal against that decision on 17th August 2007. It was when considering that appeal on 4th October 2007 that the Adjudication panel had decided to refer the Respondent's conduct to the Solicitors Disciplinary Tribunal.
114. Turning to allegation 5, the Applicant submitted that the Respondent had improperly issued proceedings on behalf of three incapable adults, in her own name, as the claimant. Moreover, in so doing, she had been on a frolic of her own and acting in clear breach of Rule 1.01, 1.04, 1.06 and/or 2.01 of the Solicitors' Code of Conduct 2007. The Applicant referred to the Respondent's detailed response in her letter of 11th September 2008 to the SRA. In this letter she had confirmed that she had always
18
been abundantly clear that she had not been instructed by the three gentlemen. He also referred to her statement of 3rd September 2009.
115. The Applicant explained that allegation 4 related to breaches of Rule 1 of the Solicitors Practice Rules by the Respondent by virtue of her conduct in certain litigation matters. The Applicant referred the Tribunal to a detailed letter of complaint dated 17th July 2008 written by Browne Jacobson Solicitors on the instructions of their client Staffordshire City Council relating to serious misconduct. Both Northamptonshire City Council and Kingston Upon Hull City Council had asked for their similar concerns to be included in the complaint. That letter, together with its 24 enclosures were before the Tribunal. The Applicant took the Tribunal through the various allegations of negligent and unreasonable conduct both within and outside litigation with reference to the relevant judicial comment and exchanges.
116. The Applicant accepted that the Respondent was a vigorous litigator but he stressed that, however vigorous, solicitors should nevertheless take heed if the Courts say that litigation is fruitless in particular circumstances.
117. The Applicant referred, inter alia, to the proceedings in the Court of Appeal R (on the application of Eugene Hide) v Staffordshire City Council in which Lord Justice Moses said that the Respondent was attempting to blacken Mr Skerman's curriculum vitae. The Applicant submitted that the Respondent had been attempting to blacken Mr Skerman's name. The clear inferences being made by the Respondent by her statements in open Court did not advance her argument, and the basis for such assertions was not explained to justify such assertions being made. Further the Applicant submitted that the allegations raised by the Respondent concerning Mr Skerman were based on press reports and other information from relevant Councils and without any supporting evidence as to the conduct of Mr Skerman. The Applicant submitted that such conduct on behalf of the Respondent was improper, unreasonable and inappropriate and represented a breach of Rule 1(a)(c)(d)(e) and (f) of the Solicitors Practice Rules.
118. Further, he referred to the same proceedings in the Administrative Court in which Mr Justice Wyn Williams speaking of the Respondent said "I am completely satisfied that her behaviour throughout the proceedings before me was unacceptable and negligent, at the very least." The Judge had explained that, but for her financial circumstances, he would have made a Wasted Costs Order against the Respondent.
119. Further, the Applicant referred to comments made by Mr Justice Stanley Burnton in Grabham and others v Northamptonshire City Council, to the effect that there had been material non-disclosure by the Respondent. The Applicant submitted that the non-disclosure was a relevant and clear breach of Rule 1.
120. The Applicant referred to the comments of Andrew Nicol QC in R v Northamptonshire City Council on 11th July 2006 in which he stated that he considered the claim to be hopeless. Further, to the comments of Mr Justice Calvert Smith on 20th December 2007 in Norman v Northamptonshire NHS Primary Care Trust and County Council when he told the Respondent, acting for the claimant, that she had lost and had been pretty well bound to lose, and that there had seemed to be some ongoing crusade.
19
121. The Applicant submitted that the Respondent continued to act without regard to the merits of individual cases or to the consideration of the best interests of individual clients, notwithstanding clear directions and comments from the Courts. Such conduct constituted a breach of Rule 1 (a)(c)(d)(e) and (f) of the Solicitors' Practice Rules.
122. Finally, the Applicant referred to the documents submitted under the Notice to Admit dated 28th July 2009 relating to proceedings against Hull City Council concerning Rokeby House. The Applicant submitted that it was a matter of concern that the Respondent had felt able to grant public funding to a claimant, Mrs LW, using her devolved powers immediately following a negative Counsel's opinion, three judicial statements that the case had no legal merit and the discharge of a public funding certificate of another resident with an identical case. Again the Applicant submitted that such conduct breached Rule 1(a)(c)(d)(e) and (f) of the Solicitors Practice Rules.
123. The Applicant submitted that, overall, the conduct of the Respondent and her approach to litigation was such as to give rise to breaches of Rule 1 of the Solicitors Practice Rules 1990 and/or Rule 1 of the Solicitors Code of Conduct 2007 and was a matter of real concern.
Oral Evidence on behalf of the Applicant
124. Peter Michael Jefferys gave evidence about the various reports he had provided both to the Respondent and to Bristol City Council in 2003 and 2004 and also about the Respondent's complaint dated 1st November 2004 to the General Medical Council concerning those various reports. He relied on his statement of 2nd August 2009.
125. In cross examination, Dr Jefferys explained about his role on the Fitness to Practice Panel. He explained that he had made his complaint about the Respondent to the Law Society on 2nd April 2005 because of his concerns relating to the context of the Respondent's complaint to the General Medical Council and about identities of individuals, not relevant to this specific complaint, being released to the General Medical Council. Dr Jefferys explained that he had redacted the names of individuals in any correspondence from him to the Law Society.
126. Dr Jefferys confirmed that information about his potential conflict of interest with the Respondent did appear in his independent medical reports which were considered by the judiciary. He explained that this was solely because of the need for transparency and for no other reason.
127. Dr Jefferys also confirmed that he was aware of the work of Professors Burns and Jolley and that any comments that he had made as to the lack of research related to the lack of effective control studies. He explained his views as to the risks involved in moving older people from their current care homes, and his role as an independent expert in such cases.
128. During the cross examination, the Tribunal stressed to the Respondent that questions as to Dr Jefferys competence as an expert were not relevant. This was because the issue before the Tribunal was one of breach of client confidentiality and not the
20
professional conduct of the witness. The Tribunal confirmed that it had noted that the Respondent's defence to the allegation was, in part, based on the alleged inconsistency of Dr Jefferys' reports.
129. Dr Jefferys gave evidence about the report of 4th November 2002 prepared by a panel and his report of 4th June 2003. He explained that he had assumed that his reports of 28th and 29th July 2004 would be copied, in the usual way, to both parties. He stressed that, at no stage, had he said that moving would involve no risks. Read together the two supplementary reports requested by the parties indicated that risks could be reduced but not eliminated.
130. In re-examination, Dr Jefferys explained that he had regarded the letter of 1st November 2004 as a complaint by Hossacks on behalf of her client. The General Medical Council had investigated that complaint and closed the complaint in February 2005 saying that it had been an isolated case and not part of any wider concerns.
131. Dr Jefferys said that he certainly had no axe to grind and that he respected the work that the Respondent had done for vulnerable older people.
132. Laura Hughes, an Associate Solicitor employed by Browne Jacobson LLP gave evidence about the complaints made on behalf of Staffordshire County Council, Northamptonshire County Council and Hull City Council. She relied on her statement dated 4th August 2009.
133. In cross examination, Ms Hughes said that she had not sought views or consent from individuals before making the complaints in Browne Jacobson's letter of 17th July 2008. In relation to the press release following the Thomas case, Ms Hughes said that she was unable to comment upon the views of others. Dealing with the email of 26th March 2007, Ms Hughes explained that although it referred to a closure process and a closure schedule, various documents had been attached to that email indicating several options and in fact some care homes had remained open. When the email was read with its attachments people would realise that there would be full consultation.
134. Ms Hughes confirmed that once the consultation process had been completed, needs assessment had taken place for each individual although she did not know if that needs assessment had included a clinical risk assessment.
135. Ms Hughes said that some of the original allegations against the Respondent in the costs proceedings, following one of the judicial review proceedings, had been withdrawn following the Respondent's response, including the allegation of touting for business.
136. The Applicant confirmed that it was the nature of the Respondent's conduct in certain litigation that was the subject of allegation 4. Moreover, Ms Hughes had put forward her witness statement simply to assist the Tribunal and that the key documents were the judgements attached to that statement.
137. Ms Hughes confirmed that her comments relating to Lord Justice Moses in the Court of Appeal on 4th July 2007 represented her own opinion as to his views concerning the number of people in open Court as did her comments relating to the letter referred to
21
in allegation 6, concerning which she had been informed that privilege had been waived.
138. Ms Hughes agreed that all the documents produced by the Respondent in relation to Mr Skerman had been in the public domain. Ms Hughes agreed that not all the points made by the Staffordshire County Council in the costs submissions in the case of Hide had been included in the complaint or pursued by the Solicitors Regulation Authority. However, Ms Hughes said that they had been properly made at the time.
139. Following the conclusion of Ms Hughes' evidence, the Applicant sought clarification and guidance from the Tribunal in relation to one of the Respondent's documents. The Respondent explained that she would only be using that document if it became necessary to demonstrate that people in the public eye can be subjected to extreme attacks for political purposes. The Tribunal directed that the document be retained.
140. Mr M R Lawrance in evidence explained that he had known Ms T for some 20 years and although he had an Enduring Power of Attorney, he had never used it. He confirmed that the emails before the Tribunal had been sent by him but that he had not looked at them again before coming to the Tribunal to give evidence. Mr Lawrance stressed that he had not wanted to give evidence before the Tribunal because he had wanted to dismiss the events of 2006 and the very disgraceful actions of Sue Ryder Homes from his mind. Moreover, he stressed that Ms T would not have wished to be involved in any situation where someone would be affected by the Tribunal's proceedings. In answer to a question from the Tribunal, Mr Lawrance said that he did not know whether or not Ms T had given the Respondent authority to act as she did.
141. Philip James Luxford gave evidence about the events in 2006 when he had been employed as the Deputy Chief Executive and Company Secretary of Sue Ryder Care. He relied on his statements of 12th August 2009 and 16th May 2006.
142. In cross examination, Mr Luxford explained the financial difficulties of Sue Ryder Care and confirmed that consultation began in November 2005 including an ongoing assessment of risk. He explained the events relating to the home closures and his involvement with Ms T. Mr Luxford said that his evidence about Ms T's anxiety about not being moved to Rebecca Court was based on the views of at least three staff members. He confirmed that he had not spoken to Ms T about her instructions to the Respondent.
143. Lynne Bird, a solicitor employed as Legal Services Manager for Hull City Council gave evidence about the proceedings involving the Rokeby Care Home. She relied on her statement dated 13th August 2009.
144. In cross examination Ms Bird explained that whilst the three gentlemen in Rokeby who had lacked capacity and had had no relatives, would not have been moved between Christmas 2007 and New Year 2008, it might have been necessary during that period to give notice of a move in the New Year. However, no one would have been moved without a full assessment, including a risk assessment. Ms Bird agreed that there had been significant differences between the estimates of each party's surveyor.
22
145. Ms Bird explained that the complaint to the Solicitors Regulation Authority had been made by Angela Dunn, the Head of Service on behalf of Hull City Council. Ms Bird said that because the proceedings in the High Court had been resolved by a Consent Order Mr Justice Collins had indicated that it would be inappropriate to seek any order for costs. Following concerns raised by the Applicant, the Tribunal directed that the witness should not be asked any further questions relating to ongoing proceedings as she was not in a position to answer these.
Oral Evidence on behalf of the Respondent
146. Brian Binley, Member of Parliament for Northampton South, in evidence explained that he had been a member of the Northamptonshire County Council for 12 years from May 1997. He outlined his role and responsibilities for the devolved budget of some £800m and for 23,000 employees. Mr Binley said that with more political will a more caring outcome could have been achieved despite the cuts.
147. Mr Binley said that he had not known about Northamptonshire County Council's complaint concerning the Respondent. He had heard rumblings by certain officers but had never received any complaints about the Respondent from members of the public. In his view she acted with passion and with great energy.
148. In cross examination, Mr Binley accepted that professionals were subject to the requirements of rules and regulations but he stressed that he was not competent to comment upon the detail of specific judgments.
149. The Right Honourable Alan Johnson MP, Home Secretary and Member of Parliament for Hull in evidence explained that he was, and continues to be opposed, to the closure of Rokeby Resource Centre. Mr Johnson confirmed that he had written to the Head of Community Care Services in January 2008 to express his concerns about plans to move three unrepresented residents before the end of the legal process. Although he stressed that he was unaware of the details of the rules and regulations covering solicitors, he was not aware, on the basis of his involvement with the Respondent, that she had brought the solicitors' profession into disrepute.
150. Mr Johnson confirmed that he had been aware of and concerned about Mr G, a resident at Rokeby. He had believed that Mr G was at risk. However, he had considered that there were cases where homes had to be closed and individuals moved. He stressed that he was giving evidence as a Member of Parliament for Hull and that he was not appearing before the Tribunal to give any evidence about government policy. Mr Johnson agreed that he would be concerned if his constituents were unable to obtain legal representation.
151. Sally Keeble as Member of Parliament for Northampton North, gave evidence about the use of judicial review proceedings to enable an objective to be achieved rather than to win a formal victory by way of quashing a decision. She relied on her statement of 13th August 2009 giving details of her knowledge of the Respondent's work both for her and for some of her constituents.
152. In cross examination, Ms Keeble agreed that whilst she was aware of the Respondent's work she did not have detailed knowledge of Solicitors' Rules of
23
Practice and Conduct. She confirmed that when she said the Respondent had not brought her profession into disrepute, she was not making a technical point but was expressing the view of the Respondent's clients and of the wider public. Ms Keeble explained the current use of the secondary benefits of judicial review proceedings.
153. A statement by Hilda Milsom dated 16th August 2009 was read to the Tribunal. Ms Milsom had wished to give live evidence before the Tribunal but was unable to travel because of her age and health and the Tribunal did not have video conferencing facilities. Ms Milsom's evidence related to her instruction of the Respondent to try to prevent the closure of Rokeby Resource Centre.
154. Malcolm Fields relied on his statement of 16th August 2009 giving evidence relating to the Respondent's work and conduct when instructed to try to prevent the closure of Rokeby Resource Centre, where his mother-in-law was resident. He stressed that the Respondent had explained Legal Aid and the prospects of success and the risks clearly.
155. Christine Kinsey relied on her statement of 16th August 2009 giving evidence relating to the Respondent's work and conduct when instructed to take proceedings against Northamptonshire County Council's plans to amend the criteria for care support.
156. A statement by Sir Anthony Grabham, a retired Consultant Surgeon and past President and Chairman of the British Medical Association, dated 18th August 2009, was read to the Tribunal. For medical reasons Sir Anthony Grabham had been unable to appear before the Tribunal. His evidence related to the Respondent's work and conduct when instructed on behalf of his daughter and other disadvantaged persons to take proceedings against Northamptonshire County Council. He said that although it had not been possible to obtain an injunction, the proceedings had resulted in a series of concessions and assurances.
157. A statement by Patricia Bliss dated 14th August 2007 was read to the Tribunal. For medical reasons Ms Bliss had been unable to appear in person before the Tribunal. Inter alia, her statement gave details of how Ms T had met the Respondent. Ms Bliss confirmed that she had been present during the meeting between the Respondent and Ms T and detailed what had taken place. Ms Bliss also explained how Ms T's instructions were to be confirmed by RC, her close friend.
158. Simon Heffer, Associate Editor and Columnist of the Daily Telegraph, read his statement dated 12th August 2009 to the Tribunal. In that statement he gave evidence as to the complaint by Hull City Council, the closure of the Sue Ryder Care Home in Snettisham and as to the allegation of bringing the profession into disrepute.
159. In cross examination, referring to the article published by the Daily Telegraph on 24th December 2007, Mr Heffer explained that as far as the readers of his paper had been concerned the Respondent had been attempting, as their solicitor, to represent the interests of three vulnerable people, in re-examination, Mr Heffer confirmed that he had not appreciated the technicality but he believed that the three men had not been moved because of his newspaper's article. In response to a question from the Tribunal, Mr Heffer confirmed that he had been aware, at the relevant time, that the three men had been assigned an Independent Mental Capacity Advocate.
24
160. Eugene Hide read his statement dated 6th August 2009 to the Tribunal. In his statement he explained about the Respondent's work and conduct when he had instructed her to take proceedings against Staffordshire City Council. Mr Hide said that, until he met the Respondent, he had been trying unsuccessfully to find any help to challenge the closure of Rosenheath.
161. Andrew Norman, a retired Certified Accountant read his statement dated 14th August 2007 to the Tribunal. His statement, dealing with his instructions to the Respondent in relation to interim care provisions, was agreed by the Applicant.
162. Giving evidence to the Tribunal, the Respondent relied on her submission of 3rd September 2009 and her correspondence to the Solicitors Regulation Authority. She explained that in the course of her work it was necessary for her to obtain instructions from vulnerable clients. The Respondent explained the careful way in which she achieved this. In the case of Ms T, she said, she had been given clear, firm and unequivocal instructions from Ms T. However, because she had been concerned about Ms T's vulnerability she had agreed with her that Ms T should talk the matter over with her good friend RC and if Ms T still wished to go ahead, RC would confirm her instructions. Subsequently, the medical advice was that Ms T should not be asked to weigh the competing arguments as to whether to stay or to go, and the Respondent stressed that she had continued to follow her initial instructions.
163. Turning to the second allegation, the Respondent stressed that in some 30 years of practice she had represented some 30,000 clients and had never received a complaint from any of her clients. She said that, at all times, she strove to act in her client's best interests and that she considered client confidentiality to be fundamental to the client solicitor relationship. She admitted however that, in making her complaint about Dr Jefferys to the General Medical Council, she had committed a breach by not redacting clients' details but she relied on the exception to the rule at paragraph 16.02.
164. The Respondent told the Tribunal that being a solicitor was a privilege and that she accepted that responsibilities came with her role as an Officer of the Court. However, she saw her overriding duty as being to her client if that client's life was at risk.
165. The Respondent said that she had carefully explained to her Sue Ryder Home clients the different legal protection afforded to private and to public care homes. The test case of Johnson had influenced her approach at that time. The Respondent referred the Tribunal to the letter that she had written on 17th May 2006 to the Court Manager at the Royal Courts of Justice. She had written that letter to be placed before his Honour Judge Holman because of his reporting of concerns arising from the witness statement of Philip Luxford. The Respondent called into question the evidential value of Mr Luxford's statement as she submitted that it was based on hearsay and opinion.
166. The Respondent explained her dealings with the residents of the Sue Ryder Homes as set out in her letters to the Solicitors Regulation Authority and in her statement of 3rd September 2009. She stressed that her advice had been negative and pessimistic. However she had explained that it might be possible to obtain an injunction in personal injury proceedings to prevent moves that could cause death. She explained
25
to the Tribunal that in matters of life and death clients may wish to pursue matters that appear to have slim chances of success.
167. In answer to a question from the Tribunal as to copies of attendance notes and Legal Aid documentation relating to Ms T, the Respondent insisted that on a number of occasions, over the course of the SRA's investigations, she had sent and re-sent relevant documents only for the SRA to ask repeatedly for papers. She explained that the relevant files were now in storage.
168. In cross examination, the Respondent insisted that she had applied for Legal Aid for Ms T and that she had made an attendance note, a copy of which she had sent to the SRA. However, she agreed that Ms T had not confirmed her instructions in writing and that she herself was not sure whether or not she had confirmed those instructions in writing. However, the Respondent stressed that it had been agreed that if Ms T wished to proceed, Ms T would confirm her instructions by way of RC, her close friend.
169. The Respondent stressed that she was highly experienced in dealing with people with cognitive impairment and in obtaining cogent instructions if, having assessed mental capacity, such could be achieved. The Respondent stressed that she had not taken Ms T's action, at the end of their conversation, of raising two clenched fists, as her instructions to proceed. During their conversation Ms T had instructed her that she wished to fight.
170. The Respondent maintained that during her first and only meeting with Ms T she had been instructed to take proceedings because Ms T wanted to fight. The usual two consent forms had been overlooked when the Legal Aid forms were being signed. However, Ms T must have given her consent for the release of medical information to Dr Zapata-Bravo.
171. The Respondent explained that she had not been clear about Ms T's financial circumstances and had asked her friend RC. RC had put her in touch with Mr Lawrance. Also, via RC, Ms T had agreed to media interest in her case which because of her long relationship with Lady Ryder would probably be considerable. Mr Lawrance had provided the necessary financial information. Dr Zapata-Bravo could only deal with three reports and of the four people eligible for Legal Aid, the Respondent had selected the best three including Ms T.
172. The Respondent insisted that she had been told that Mr Lawrance dealt with Ms T's financial affairs but that she had not known that he held a Power of Attorney. She had phoned him, spoken to him at length and made it clear why she needed the information about Ms T's finances. The Respondent stressed that it was not a case of Ms T consenting to a move but that of her friends deciding that such a move would be in her best interests. The Respondent said that she had spoken to Dr Zapata-Bravo who had said on 5th May that Ms T was at risk and that she should not be moved. In addition that placing pressure on Ms T could involve serious risks including death.
173. On 7th May, the Respondent explained that Mr Lawrance had phoned her to let her know that Ms T's friends were moving her forthwith and that they were not prepared to wait for the full medical report. The Respondent had asked Mr Lawrance to
26
reconsider but he had refused and so, after thinking about it very carefully, the Respondent had phoned the care home. A senior nurse at the care home had told the Respondent that Ms T did not wish to move. The Respondent said that, at that point, she realised that she could have walked away but, on reflection, she had believed that to do so would be wrong. Given the distance she could not get to her client, Ms T, before Ms T's friends moved her. In these circumstances the Respondent had contacted the Judge because she had been afraid for her client's life. The Judge had granted a stay overnight on the Respondent's undertaking to provide evidence from Dr Zapata-Bravo. The Respondent stressed that although she had not seen her client for a month she believed that Ms T's life was at risk if she was moved and given that she could not have reached her client in time, and given that her instructions had not changed, the Respondent had put the matter before a Judge.
174. The Respondent said that, if similar circumstances arose, she would act again in a similar way. Mr Lawrance had not filed his Power of Attorney and Ms T, although very troubled about the move, had had mental capacity.
175. When asked why she had not challenged the contents of Mr Lawrance's emails in cross examination, the Respondent said that the witness had appeared stressed and troubled and he had confirmed their content. The Respondent considered that the situation had changed for Ms T because she had been placed under duress in that other people had been making decisions for her. Nevertheless her initial instructions had not changed. On 27th April 2006 Ms T had told Dr Zapata-Bravo that she did not want to move. On Sunday 8th May the Respondent believed that she was dealing with a crisis and that her client's life was at risk. Approaching the Court of Protection on a Sunday was not possible so she had approached a very experienced Judge who had made an interim injunction. The Respondent explained that she had realised that she was in a difficult professional position but that she had believed that she had acted in the best interests of her client and, if faced with the same situation again, she would not act differently.
176. The Respondent insisted that, while she had disclosed confidential information to the General Medical Council, she relied on the exception to the rule. This was because she had relied on a supplementary report in a situation where there was another supplementary report containing information which, had she been aware of it, would have prevented her from advising her clients to compromise the proceedings on the basis of the risk to life being extremely small. When asked if she would act in a similar way again, the Respondent said that she would do so if lives were at risk.
177. Responding to a question about her letter of 24th September 2007, the Respondent insisted that its contents were not in the least improper and that it made clear that it was not her role, as a solicitor, to protest. However, that did not prevent her from explaining the role of publicity in engaging sympathy and support in matters of public concern. The Respondent confirmed that she would write such a letter again in that she believed solicitors could advise clients in appropriate circumstances to lobby and to campaign. She stressed that the process of judicial review applied pressure to decision makers that resulted in significant concessions.
178. The Respondent accepted that she had not been instructed by the three vulnerable men at Rokeby in December 2007. The judicial review application had been in the name
27
of Hilda Milsom. However, it had been in the nature of a blanket application to stop the Council moving people out of the home, one by one. The Respondent accepted that the three men had had an Independent Mental Capacity Advocate. However, she explained that this gentleman appeared to know little about the law. The Respondent denied that she was on a frolic of her own and stressed that she was trying to prevent the death of the three vulnerable men.
179. In response to questions about the Hide litigation and specifically to paragraph 15 of Mr Justice Wyn Williams' Judgment, the Respondent insisted that there had been a change of circumstances because Staffordshire County Council had had to put in place a proper consultation before making any decision to close an individual home or day centre, even though the judicial review proceedings had failed.
180. The Respondent accepted that in proceedings in the Court of Appeal on 4th July 2007, the Court had not been impressed with her comments about Mr Skerman. Moreover, in a Judgment dated 26th October 2007, Mr Justice Wyn Williams had found her behaviour in the proceedings to be unreasonable and negligent. However, the Respondent said that she had not been in a position to dispute those findings. The Respondent agreed that Andrew Nicol QC on 11th July 2006, had considered proceedings against Northamptonshire County Council to be hopeless. In proceedings on 20th December 2007 the Respondent agreed that Mr Justice Calvert-Smith had said that she had been pretty well bound to lose. However, given the terrible circumstances of Mr Norman, the Respondent said that she had felt compelled to act on his behalf. In response to a question about Mr Justice Calvert-Smith's remark about "some ongoing crusade", the Respondent said that she considered it to be an improper remark and that she was not on any crusade but was just doing her job as a solicitor. Moreover, she stressed that applications for judicial review frequently resulted in many concessions that had greatly improved the lives of her clients.
181. The Respondent denied that she had obtained an injunction on 28th September 2006 by misleading the Judge. She had not seen the fax from the local authority until she had returned to the office and the undertaking from the local authority had not covered clinical risk assessments. In November 2007, the urgent interim relief against Hull City Council was to allow access to a surveyor. The Respondent denied that she had failed to provide all relevant information to the Judge. She agreed that interim relief was subsequently rejected four times but said that some four months later, it was granted by Mr Justice King. The Respondent agreed that an application was dismissed by Mr Justice Bunting and that Ms Milsom's Legal Aid Certificate was discharged. However she stressed that the discharge had been subject to an appeal. The Respondent explained that she had been willing to continue pro-bono and that her clients had been fully advised as to their risk of costs. Subsequently, the Respondent was instructed by Mrs W, who relied on the same case as Ms Milsom but with additional health factors. The Respondent had granted Legal Aid to Mrs W under her devolved powers. Once the application for leave had been granted, the matter was heard on 24th April 2008 when a Consent Order was agreed.
182. The Respondent agreed that on 4th October 2006 in the Grabham proceedings, Mr Justice Stanley Burnton found that the Respondent had not given full disclosure on 27th September 2006. The Respondent stressed that she had been travelling for two days during which time she had been trying to get Northamptonshire County Council
28
to agree to the major concessions made by them during the hearing of 4th October 2006. In response to a question from the Tribunal, the Respondent confirmed that the correspondence of 27th September 2006 had been read to her while she was on the train. However, she maintained that any concessions in that correspondence had not amounted to the detailed concession achieved in the proceedings which had fully protected her clients at that time.
183. In answer to a further question from the Tribunal, the Respondent explained that she had a franchise from the Legal Services Commission in the areas of Public Law and Community Care. She had delegated powers to grant Legal Aid to clients if something urgent needed to happen within three days. Her costs would be limited to £1,500.00 and she had to submit the appropriate papers within five days. Once she had instructions she would send a detailed client care letter approved by the Legal Services Commission. Her firm had passed audits by the Legal Services Commission in 2002 and 2006 and had had a monitoring visit from the Law Society in December 2004.
Oral Submissions by the Respondent
184. Dealing with the first allegation the Respondent referred the Tribunal to her written submissions. She stressed that the evidence from Mr Luxford related to events that he had not directly witnessed, whereas the witness statement of Patricia Bliss was from a lady who had been present during the Respondent's meeting with Ms T. The Respondent insisted that she had only taken instructions from her client Ms T and had devised a method whereby her client had been able to discuss matters with a friend before confirming her instructions through that friend. The Respondent stressed Ms T had never withdrawn her instructions and that had the Respondent done what Mr Lawrance wanted, then the Respondent would have been in the position of accepting instructions from a third party.
185. In respect of allegation 2, the Respondent stressed that all her clients knew that and consented to their medical reports being disclosed within the proceedings and had consented to the release of all relevant information to compile those reports.
186. The original allegation 3 had not shown a prima facie case and the Respondent submitted that the renumbered allegation 3 was subject to her defence under Rule 16.02, as previously detailed.
187. Turning to the complaint by Staffordshire County Council, the Respondent stressed that after the decision on 23rd March 2007 a press release by the City Council entitled "The Court has upheld our Changing Lives policy" had had a grave affect on vulnerable individuals whose lives would be affected by closures. Mr Hide had been a vulnerable individual with particular problems. As a result of subsequent proceedings the Respondent claimed that some seven care homes had been saved from closure.
188. The Respondent submitted that all the complaints against her were initiated by her opponents and not by her clients. While individual judicial review proceedings might not succeed in quashing a decision, concessions made by defendants within those proceedings benefitted vulnerable clients. The Respondent stressed that she had never
29
misled a Court or failed to provide relevant information. On 27th September 2006 the Judge granting interim relief had been aware of the promises of care assessments but it was the lack of risk assessments that had been put to him as key.
189. The Respondent submitted that it was not possible to appeal what Judges say but that she had sent a letter of complaint to the Administrative Court dated 12th March 2008. The Respondent stressed that as a Solicitor Advocate her job was to try her very best by all lawful means to protect her clients.
190. In the Fordham case the Respondent submitted that she had been acting properly under instructions when Northamptonshire County Council interfered in the solicitor/client relationship by appointing a Lay Advocate who knew nothing about the risks of moving older vulnerable people. The Respondent explained that she had taken proceedings in her own name to try to save her clients and subsequently the defendant had agreed to obtain risk reports as opposed to just care assessments.
191. The Respondent submitted that, in the proceedings against Hull City Council, the three vulnerable men had not been her clients. However, she had taken steps to try and help them.
192. The Respondent submitted that she had done nothing to bring the profession into disrepute and that the SRA had been unable to produce a single member of the public to say that she had. Further, she submitted that the original complainants to the SRA sought to prevent her from acting for vulnerable clients in ongoing and future proceedings. The Respondent referred to the Law Society's Code for Advocacy and submitted that she had followed its fundamental principles at all times using all proper and lawful means when acting for her vulnerable clients.
The Decision of the Tribunal
193. In reaching its decisions on the six allegations before it the Tribunal used the highest standard of proof. The Tribunal considered all the evidence before it, both oral and written, together with the helpful submissions of both the Applicant and the Respondent.
194. Dealing with the first allegation the Tribunal was not satisfied, so that it was sure, that the Respondent had accepted and acted upon instructions from third parties without seeking clarification of the position directly from her client, Ms T. The Tribunal had noted all the evidence placed before it and had been particularly impressed by that of Patricia Bliss. The Tribunal accepted Ms Bliss' evidence. The Tribunal was satisfied that the Respondent had been instructed during her meeting with Ms T, subject to the confirmation of those instructions to be given as agreed by Ms T's friend, RC. In seeking interim relief to prevent the removal of Ms T from her care home, the Tribunal was satisfied that the Respondent had been acting under the terms of her original instructions; that Ms T did not wish to move and that she wanted to fight the closure. The Tribunal noted the medical evidence relating to Ms T and considered that the Respondent had been faced with an exceptional set of circumstances. Although those circumstances had prevented the Respondent from clarifying her instructions directly with her client, the Tribunal was not satisfied that she had in any way acted outside her instructions. The Tribunal had been strengthened in its view by
30
the late submission of what the Tribunal considered to be relevant documents and in particular, the application for Community Legal Service funding signed by Ms T and showing borderline prospects of success.
195. Dealing with the second allegation, the Tribunal did not find that the Respondent had provided confidential information to a third party without the consent of her clients. The Tribunal accepted that there was no evidence of the expressed consent of Ms T in the absence of the signed medical consent form and general form of consent which the Tribunal accepted had been overlooked when Ms T has signed the CLS application form in the presence of her friend RC. However, consent was clearly implied by Ms T's cooperation with Dr Zapata-Bravo on 27th April 2006. His report dated 12th May 2006 made it clear that Ms T had fully consented to the preparation of a report using confidential information. Moreover the CLS funding application form signed by Ms T referred to the need to obtain an expert psychiatric opinion on the dangers to the client of the move from her Sue Ryder care home.
196. Dealing with the renumbered third allegation in the supplemental statement, the Tribunal did find that there had been a breach of Rule 16.01 but did not find breaches of Rule 1(c)(d)(e) of the Solicitors' Practice Rules. The Tribunal noted that the disclosure of confidential information had occurred when the Respondent complained to the General Medical Council about Dr Jefferys and had sent copies of his medical reports to the General Medical Council without redacting the details of five of her clients. These five clients had not been asked to provide their consent to disclosure. The Tribunal noted that there had been no complaints from clients or from their relatives about the disclosure. While the Tribunal did not accept the Respondent's defence under Rule 16.02, it considered the breach as proved to be at the lowest level.
197. Turning to the renumbered allegation 4 that related to breaches by virtue of the Respondent's conduct in certain litigation matters, the Tribunal did not find the allegation proved. The Tribunal had found this allegation extremely complex not least because of the large number of factual matters presented to it in support of the various aspects of the allegation. The Tribunal was very conscious that it was not being asked to deal with complaints from the Respondent's clients but from her opponents both past and current. It was necessary for the Tribunal to consider not only papers in the various proceedings but also the detailed representations from the parties including the nature of what could be achieved by and the purpose of judicial review proceedings. On the evidence the Tribunal was satisfied that the Respondent had not deliberately sought to mislead either the Court or her opponents or that she had not been putting forward what she had considered to be arguable points on behalf of her clients. The Tribunal acknowledged that a Solicitor/Advocate might often be faced with conflicting duties and that it was vital that all solicitors upheld the rule of law and the proper administration of justice. While not ignoring some of the very serious comments made by the various members of the judiciary, the Tribunal was not satisfied so that it was sure on the basis of the evidence before it that the Respondent had breached Rule 1 of the Solicitors Practice Rules so as to undermine the public interest in the administration of justice. The Tribunal noted that the Respondent was not just a caring person but was also passionate and enthusiastic about working for her clients.
31
198. Turning to renumbered allegation 5, the Tribunal was not satisfied that the allegation was proved in that the Tribunal accepted the Respondent's oral evidence that she had not been instructed, her written submission dated 3rd September 2009 at paragraph 12 in which she said that the three men were not legally represented and her response to the SRA in her letter dated 11th September 2008 in which she said:-
"I was always abundantly clear that I was not instructed by the three individuals, bearing in mind that they (have) dementia to such a degree that they do not have mental capacity to instruct a solicitor"
The Tribunal accepted the Respondent's evidence that she had been instructed by the residents who were her clients to preserve the status quo and therefore had included the three vulnerable men in a blanket application. The Tribunal did not accept that the three men had ever been the Respondent's clients. Accordingly the Tribunal did not find as proved breaches of 1.01, 1.04, 1.06 and/or 2.01 of the Solicitors Code of Conduct 2007.
199. The final allegation that the Respondent had breached Rule 1.03 of the Solicitors Code of Conduct 2007 by virtue of writing the letter dated 24th September 2007 was not found proved by the Tribunal. The Tribunal was satisfied that the Respondent had not compromised her independence by the contents of her letter, which were neither improper nor inappropriate. The Respondent had explained that as a solicitor it was not her role to protest but she was in a position to advise about the importance of action by others.
Submissions as to Penalty and Costs
200. The Applicant did not apply for an Order for Costs but reminded the Tribunal of the decisions in Baxendale v Walker, particularly at paragraph 35 of the Judgment.
201. The Respondent applied for her costs on the basis of the large amount of work that she had been forced to do to defend herself. Moreover, she sought an order for costs as against the SRA so that the Solicitors Disciplinary Tribunal could show its displeasure for the proceedings.
202. Having considered the submissions and noted that the Respondent had not previously appeared before the Tribunal, the Tribunal determined that no Order should be made either as to penalty or as to costs. Moreover, as the Tribunal considered that the proceedings had been properly brought by the Solicitors Regulation Authority it made no Order as to costs in favour of the Respondent.
Dated this 12th day of January 2010
On behalf of the Tribunal
D Green
Chairman