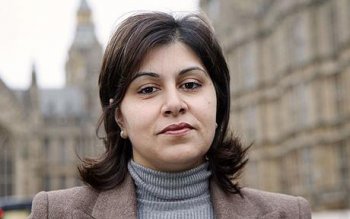 Doctors4Justice has been successful in campaigning against the post of Minister for Faith.
It has been abolished.
Our campaign has been in keeping with equality principles for all (religious or not religious) and the essence of secular agenda.
Most British institutions already have a hefty dose of religious bias with many religious privileges.
It is not too difficult to explain why medicine is so loaded with those. Despair holds hands with superstition. Similarly, with poverty. In fact, many have argued that some religions lead to widespread poverty through the values such as prohibition of birth control, inequality between sexes, races and those of different social class. Recent research shows that those who are highly religious have higher levels of stress biomarkers.
For some people religion is linked to their identity and self perceived discrimination is sometimes misinterpreted as discrimination against religion.
When recently, in Broadmoor Hospital in UK, a couple of mentally ill patients who recently converted to Islam attacked staff because they were not allowed to pray in patients' common areas, one could not find in the mainstream media any mention of religious bias in medical institutions.
Broadmoor Hospital has employed one Dr Gwen Adshead Consultant Psychiatrist who got herself elected to the General Medical Council (GMC) to judge other doctors in disciplinary proceedings against them while GMC had outstanding complaints against her. Nice one. Once in, the complaints against Dr Adshead did not lead anywhere. Dr Adshead failed to declare her interests as required by the GMC's own rules. Not only is she a lay preacher but her sister is a Catholic nun. All of this was highly relevant in the case of Dr Helen Bright who was shredded to bits by the religious fury.
Dr Bright objected to the wearing of the religious uniforms by mental health staff when working with mentally ill.
After GMC stupidly got rid of Dr Helen Bright patients died in larger numbers than before.
Despite the fact that there was an increase in suicides in the area where uniformed nun worked for four years (eight more suicides) Department of Health officially started to pretend that every National Health Service Trust is responsible for their own workwear policy as a matter of law. Dr Helen Bright was advised to write to each one of them (there are over 50 NHS mental health trusts) because they are all independent in how they construct their policies according to Department of Health. Well, where was that independence when Department of Health wrote national policy for workwear on surgical and medical wards in NHS trusts? So, the lives of those who have appendicitis matter and the lives of those who have mental illness do not.
As most people would know not all UK areas are the same in terms of ethnicity and religiosity. Does this affects votes? And suicides?
There is evidence that suicides are highest among black men. "
Suicide rates and classical indicators of suicide risk among inpatients committing suicide vary by ethnic group. Black African men have the highest rates of suicide compared to the White British group".Again, it would not be important to medical regulator or NHS that there is discrimination. There is no problem whatsoever in GMC commissioning yet another report to show that they really are not racist: who pays the piper calls the tune.
In terms of voting behaviour: "
9. Ethnicity• The ethnic vote in the UK has tended to heavily favour the Labour Party (average 80% of black & Asian vote since 1974).• This part of electorate becomes more important to parties as the immigrant population increases• Linked to social class - many immigrants live in working class urban environments• Labour Party has generally been more pro-immigration & welfare• 2005 - decrease in vote for Labour, especially amongst Muslims because of Iraq war - impact inner city areas e.g. Bethnel Green & Bow elected Respect Party
"
http://www.slideshare.net/aquinaspolitics/factors-affecting-voting-behaviour
It was during Labour government that refusal to form national workwear policy in mental health started and continued to present day in UK through all the changes of various governments.