Sunday, 30 September 2012

Posted by

Doctors4Justice
at 10:57
No comments:
Links to this post

Tuesday, 25 September 2012
Daily Mail newspaper has published on 25th September 2012 an article written by Paul Bentley on doctors found guilty of sex offences (Click on the above image published by Daily Mail to read more) and medical regulation.
Using Freedom of Information Act for discoveries Daily Mail identified 31 doctors registered by GMC who were convicted for sexual offences the majority of which (21 doctors) were for trying to buy services from prostitutes. Four cases involved child pornography. Presumably, watching it. There were no convictions for rape on doctors currently registered with GMC.
Sexual abuse is an important, emotional and complex issue. Medical regulator would like to have more power such as being able to strike off medical register doctors convicted of rape without having to have Fitness to Practice hearings. One can see that there would be some problems for GMC trying to have a hearing if the doctors was in prison, for example, but video link can be put into prison.
GMC's CEO mentioned offence of rape being one where GMC would like to have automatic right to erase those doctors convicted of such offence. Well, it is very easy to get convicted of anything in some places in the world or anywhere under certain circumstances, as a QC who advised GMC would know.
None of the sexual offenders on medical register now have been convicted of rape. However, if one can do automatic strike offs in the case of sex offenders, next, one can argue one can do it in other cases too where, for example, medical prescribing error led to death(s) of patients and there is no dispute about the facts. So, there is danger of human rights breaches: sentences being imposed without trials. It is also rather unlikely that GMC would want to remove any sex offenders very readily from their register whatever power they are given right now because it is an organisation that has shown gender and racial bias for over 150 years. Yet, we all know that certain offences are not compatible with medical ethics and it is detrimental to the reputation of medical profession to have some sexual offenders treated too leniently.
The General Medical Council Fitness to Practice panels appear to get it very wrong sometimes and can be too lenient or too harsh towards doctors.
Recently, the General Medical Council (GMC) did not argue in their evidence presented at Parliamentary Health Select Committee review hearing in September 2012 that they should have the right to correct their own mistake when they have been too harsh. Instead, GMC argued that only about 2% of Fitness to Practice decisions are successfully appealed in the High Court. GMC did not state that about 50% of doctors lack legal representation at their fitness to practice hearings and that High Court is partial to GMC, always stating that GMC panel is best suited to decide on the matters of fact and impairment of medical practice which has no legal definition at all. Therefore, the fact that there is a low success rate in doctors' appeals against GMC Fitness to practice decisions is actually, meaningless to an extent, when all facts of litigation are considered properly.
For years, GMC has been nothing more than the service station catering to the needs of NHS incompetent medical managers, persecuting whistleblowers, destroying their careers, reputations and livelihoods. For example, when it comes to the rights for patients to speak up of sexual abuse in their childhood when the abusers are clergy GMC have done everything they could to avoid proper consultation with public and profession on the issue despite being given ample help and advise on how to proceed. GMC have supported wearing of religious uniforms by mental health workers when working with mentally ill men some of whom are victims of rape by clergy and absolutely terrified of reminders of their trauma (religious uniform acts as the reminder of trauma). GMC do know that special measures are used when examining women victims of rape, for example, female doctors collect evidence and police woman interviews victim. Why discriminate against men? Sexual discrimination is sexual discrimination. Is GMC trying to please their own clergy members sitting at GMC? Where is public interest assessment, human right to free speech? Or is it that ultimately, the image of man has to be that of the all powerful creature who cannot be seriously damaged and mentally scarred for ever. The image of God is for some people like that: all powerful. As one of GMC Fitness to Practice panelists (Christian extremist) wrote in his book - it is important that God's image is that of man. Of course, other religions have different representations or none.
Ultimately, this is GMC's bid for more power, not justice which includes fairness of process. Justice means that when GMC FTP panels get it wrong and harm doctors and patients (by removing good doctors) there should be GMC officials standing up and admitting their errors.
GMC are not ignorant or powerless. They have the resources given to them by public and medical profession, but using some resources is definitely, very uncomfortable. A bit like spending money on dentist to pull the rotten teeth out. GMC would have to prove themselves that they really do care about justice for all. Did GMC ask CHRE (Commission for Health Regulatory Excellence) to consider sex offenders and appeal to the High Court if GMC's Fitness to Practice decisions are too lenient. I do not know. If they did but were not happy with CHRE they could have asked for judicial review of that refusal decision in the High Court. I have not heard that they ever did. Rather, there is cosying up of one institution to another. Hugs and kisses all around, also known as good team working between different institutions.
We do know that extensive evidence has been sent to Medical Practitioners Tribunal on one doctor, for example, Labour Party member who sits there and has breached various laws and Good Medical Practice, but not old Labour policies during Blair phase. GMC refused to investigate him but they do have the power to remove panelist who is not fit for the purpose. However, they will not. Is this because GMC leadership was appointed during Labour and still follows policies that even Labour Party does not follow any longer? Or is it that Medical Practitioners Tribunal lacks true independence form GMC because the head of empanellment is old GMC hand having worked for them for two years at least?
During the Blair years religion was pushed around, religious panelists appointed to GMC and yes, there is plenty of evidence in some religious texts that sex with minors is OK.. GMC know that. I doubt very much that interviews of people, prospective fitness to practice panelists who are members of religious orders and those who are not members of religious orders goes as far as to explore their attitudes on child sexual abuse, women, homosexuals, transgender people, abortions, ethnic minorities, mentally ill people and so on.
So far ninety two doctors have died during GMC Fitness to Practice investigations and GMC have refused to release their names and their ethnicity. It has been found that religious identity is linked with national identity according to some social research in a number of European countries.
Are ethnic minorities more likely to be subject of criminal proceedings and GMC FTP investigations? Our educated guess is: yes. Were there ethnic minority doctors who were treated differently for sexual offences by GMC Fitness to Practice than their English counterparts? The answer to that is: possibly so. Some were struck off medical register easily for a single allegation not involving rape or child pornography or sexual assault or exhibitionism.. Yes, on a word of a single person and no evidence. We do not know if GMC informed Labour MP Virendra Sharma or Daily Mail of such cases.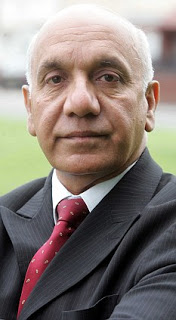 Photo of Virendra Sharma MP
Posted by

Doctors4Justice
at 09:40
No comments:
Links to this post


Posted by

Doctors4Justice
at 08:30
No comments:
Links to this post