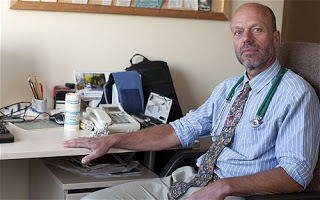 Recently, yet another doctor has transgressed the boundaries of professional behavior by allegedly using religion as a way to
help his
patients.
Of course, almost all of us know that prayer does not work from expensive experimental evidence. Some even know that God does not exist.
However, it is too tiresome for many doctors and politicians to think about it or to read the nasty bits of their religious texts and then act responsibly by putting religion into private sphere of life. But UK is not about social justice. It is all about pretending to be all things to all people of the world best suited to British rule. By supporting religious diversity in place of work/public institutions one does encounter problems with boundaries as in the case of Dr Scott and others.
Science and faith do not see eye to eye. However, medical regulator is not about facts but power, so Dr Scott is perfectly safe in the fatherly arms of his regulator. He is just the perfect fit for them. A man who can be trusted to keep the status
quo
.
Christian Medical Fellowship members-doctors allegedly do not like how
GMC
handled this case of Dr Scott. Where have they all been when thousands of doctors in UK have been needlessly persecuted by the religious Labour Government with eager
help
of
GMC
? Praying? Doing Alpha Course?
Photo above by Will

Wintercross

in Telegraph
Click on the photo to read Telegraph
's article
In 1996 and before Labour Party (religious government) came into power
eight
doctors were erased from medical register by General Medical Council. In 2007
SIXTY
doctors were erased.
Religion and nationalism are linked: for many people their religion is the same as their national identity. No wonder so many doctors from ethnic minorities were excluded from
GMC
register.
GMC
spent £841 000 on various studies of its work but did not manage to get the ethnicity of the doctors on their register so purposefully impairing monitoring of its work. Again Dr Scott, presumably has nothing to fear having been born in the acceptable place.
GMC
is faith biased institution with Bible firmly placed on its
webpage
.
GMC
refused to disclose whose idea it was to put Bible on their
webpage
when I asked them. And this is so
GMC
. One minute religion is a private matter (reason given for non-disclosure) and the next it is so public that they put religious book on their
webpage
! The double standard is all over the place.
Occasionally,
GMC
does a bit of public posing as if it cared about Good Medical Practice. The reality is
GMC
has no intention to actually reinforce Good Medical Practice any more than Equality Human Rights Commission cares about their mission.
Dr Scott, pictured above has absolutely nothing to fear. Does he not believe that God is on his side, all powerful and all knowing?
GMC
likes nothing better than patriarchal religions, oppression of women, religious women and men to sit on their fitness to practice hearings and above all
fantasies
about their limitless power. An all powerful God has a strong appeal at
GMC
.
Christian Medical Fellowship which allegedly supports Dr Scott has acted against patients' interests for a very long time now. One of their secretaries Dr Andrew
Fergusson
sat at
GMC
Council and also Fitness to Practice hearings where he was enabled by the rest of the gang to put religion first and not patients. He has practiced exorcism through simple prayer in his NHS surgery for his
patient's
headache, shivered violently and felt something cold skid across the floor.
GMC
always loved Dr
Fergusson
and could not care less about the patients. They never took any action against Dr Fergusson to the best of my knowledge.
It is always power that comes first at
GMC
who are firmly committed to opposing progress with any trick they can think off. Using Dr Scott is one of those tricks. Dr
Fergusson
suffered nothing for his transgressions of good medical practice. Dr Scott is just a bit of a show case.
Dr Pratt on the other hand who was a woman was suspended by
GMC
briefly.
GMC's
barrister (Ms Norton) in that case did not attend the hearing. Ms Norton is married to a vicar (very acceptable kind of woman, therefore).
CLICK here to read a bit about Dr Pratt's case.
When petition signed by doctors, public and lawyers opposing wearing of religious uniforms when working with mentally ill was sent by email to Mr Niall Dickson, Chief Executive of GMC he refused to forward it to Ethics Committee.
GMC firmly supported religious doctors who ganged up against the doctor who raised the objections to the wearing of religious uniforms and helped them erase the doctor from the register. This is done by placing religious members on the fitness to practice panels. GMC can trust religious lot as they are into higher authority than themselves. So, if GMC barristers tell them authoritatively what to do, they get the message, plus the lack of critical thinking in approach to the evidence and GMC has its way as it wishes.
Click
HERE to read
the petition sent to GMC.